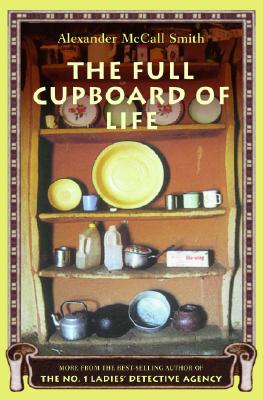 The Full Cupboard of Life (Hardcover)
Pantheon Books, 9780375422188, 198pp.
Publication Date: April 20, 2004
Other Editions of This Title:
Paperback (1/25/2005)
Compact Disc (2/24/2004)
Hardcover, Large Print, Large Print (4/1/2004)
Prebound (1/25/2005)
Audio Cassette (4/1/2004)
Paperback, Large Print, Large Print (12/23/2008)
* Individual store prices may vary.
Description
Here is the fifth novel in the internationally bestselling No. 1 Ladies' Detective Agency hit series. Once again we are transported to Gaborone, capital city of Botswana, and into the world of Mma Ramotswe and her friends.

THE NO. 1 LADIES' DETECTIVE AGENCY.
FOR ALL CONFIDENTIAL MATTERS AND ENQUIRIES. SATISFACTION GUARANTEED FOR ALL PARTIES.
UNDER PERSONAL MANAGEMENT.

Mma Ramotswe and Mr. J.L.B. Matekoni are still engaged, but with no immediate plans to get married. Mma Ramotswe wonders when a wedding date will be named, but she is anxious to avoid putting pressure on her fiancé. For indeed he has other things on his mind -- particularly a frightening request (involving a parachute jump) made by Mma Potokwani, the persuasive matron of the orphan farm.

Mma Ramotswe herself has weighty matters on her mind. She has been approached by a wealthy lady to check up on several suitors. Are these men interested in her or just her money? This may be difficult to find out, but it's just the kind of case Mma Ramotswe likes and she is, as we know, a very intuitive lady.

Meanwhile, Mma Makutsi -- plucky assistant detective and deputy manager of the Tlokweng Road Speedy Motors garage -- is moving. Her entrepreneurial venture, the Kalahari Typing School for Men, is thriving and with this new income she has rented two rooms in a house. Her spare time is occupied with planning the move, the décor and her new life in a house with running water all to herself.

In the background of all this is Botswana, a country of empty spaces and echoing skies, a country so beautiful and entrancing that it breaks your heart. Mma Ramotswe has prepared the bush tea and is waiting for us to join her.
About the Author
Alexander McCall Smith is a professor of Medical Law, but also author of over fifty books. These range from specialist titles such as Forensic Aspects of Sleep (the only book on the subject) to The Criminal Law of Botswana (also the only book on the subject) and The Perfect Hamburger (a children's novel). His collection of African stories, Children of Wax, received critical acclaim and has been the subject of an award-winning film. He lives in Edinburgh.
Praise For The Full Cupboard of Life…
Praise for The No. 1 Ladies' Detective Agency books:
"Reader, be warned: This is not your ordinary detective novel. . . . The Kalahari Typing School for Men maintains the breezy-to-read, gentle tone of Smith's previous work, and leaves us wanting more adventures A.S.A.P." -- The Globe and Mail

"[The No. 1 Ladies' Detective Agency] is a book one can read in one sitting. . . . The writing [is] very accessible, yet the prose so beautiful. . . . I choose books that give me pure joy, whose world I want to stay in for a long time." -- Amy Tan, for the TODAY show book club

"In the course of her work, Mma Ramotswe offers ample evidence of her country's complexities and contradictions. . . . Practical yet softhearted, inventive yet steeped in convention, Mma Ramotswe is an appealing personality. . . . Mma Ramotswe's methods -- and her results -- are as unusual as the novels they inhabit." -- The New York Times Book Review

"General audiences will welcome this little gem of a book [The No. 1 Ladies' Detective Agency] just as much if not more than mystery readers." -- Publishers Weekly

"Smart and sassy. . . Precious's progress is charted in passages that have the power to amuse or shock or touch the heart, sometimes all at once. . . . Thoroughly engaging and entertaining." -- The Los Angeles Times

"[The No. 1 Ladies' Detective Agency is] one of the best, most charming, honest, hilarious and life-affirming books to appear in years." -- The Plain Dealer (Cleveland)