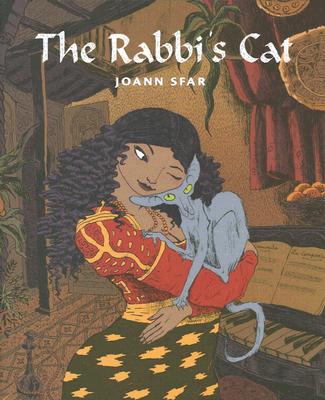 The Rabbi's Cat (Hardcover)
Pantheon Books, 9780375422812, 142pp.
Publication Date: August 16, 2005
* Individual store prices may vary.
or
Not Currently Available for Direct Purchase
Description
The preeminent work by one of France's most celebrated young comic artists, The Rabbi's Cat tells the wholly unique story of a rabbi, his daughter, and their talking cat -- a philosopher brimming with scathing humor and surprising tenderness.
In Algeria in the 1930s, a cat belonging to a widowed rabbi and his beautiful daughter, Zlabya, eats the family parrot and gains the ability to speak. To his master's consternation, the cat immediately begins to tell lies (the first being that he didn't eat the parrot). The rabbi vows to educate him in the ways of the Torah, while the cat insists on studying the kabbalah and having a Bar Mitzvah. They consult the rabbi's rabbi, who maintains that a cat can't be Jewish -- but the cat, as always, knows better.
Zlabya falls in love with a dashing young rabbi from Paris, and soon master and cat, having overcome their shared self-pity and jealousy, are accompanying the newlyweds to France to meet Zlabya's cosmopolitan in-laws. Full of drama and adventure, their trip invites countless opportunities for the rabbi and his cat to grapple with all the important -- and trivial -- details of life.
Rich with the colors, textures, and flavors of Algeria's Jewish community, The Rabbi's Cat brings a lost world vibrantly to life -- a time and place where Jews and Arabs coexisted -- and peoples it with endearing and thoroughly human characters, and one truly unforgettable cat.
About the Author
Considered one of the brightest and most talented of the younger generation of French comic artists, Joann Sfar has written or collaborated on more than one hundred books for adults and children. He has worked with some of the best young artists in France, including Christophe Bain, Emmanuel Giubert, and Lewis Trondheim. In the United States he's best known for his children's books, Little Vampire Goes to School, which made the New York Times best-seller list, and Little Vampire Does Kung Fu!, which was recently nominated for an Eisner Award. Sfar was awarded the prestigious Jury Prize at Angouleme for The Rabbi's Cat. He lives in Paris with his wife, two children, and the model for the rabbi's cat.
Advertisement