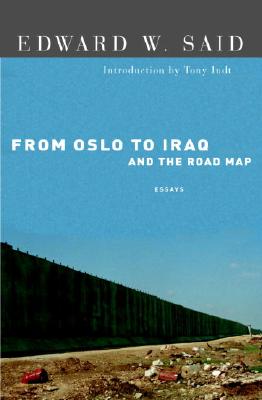 From Oslo to Iraq and the Road Map: Essays (Hardcover)
Essays
Pantheon Books, 9780375422874, 352pp.
Publication Date: August 1, 2004
* Individual store prices may vary.
or
Not Currently Available for Direct Purchase
Description
Nadine Gordimer once wrote, referring to Edward Said's memoir Out of Place, "Said is in place among the truly important intellects in our century." These forty-six eloquent and impassioned essays written by Said between December 2000 and July 2003 for the London-based Al-Hayat, Cairo's Al-Ahram Weekly, and the London Review of Books underscore his tireless efforts for the Palestinian cause. They take us from the collapse of the Oslo Accords to the U.S. invasion of Iraq, focusing on three main themes, as Tony Judt points out in his introduction: the urgent need to reveal the truth about Israel's treatment of Palestinians, the equally urgent need to get Palestinians and other Arabs to engage with the progressive elements in Israel, and the need to speak out about the failure of Arab leadership.
In "From Oslo to Iraq and the Road Map," Said writes about the second intifada and about the so-called peace process, which he terms a kind of "fast-food peace" underscored by "malevolent sloppiness." He discusses the breach of democracy in the last American presidential election and describes the Bush administration as hopeless in its allegiance to the Christian right and to the big oil companies. He writes passionately against the war in Iraq and condemns the "road map" as a plan not for peace but for pacification of the Palestinians. He makes clear the ways in which the U.S. response to 9/11 has further destabilized the Middle East, but finds as well reasons for hope: the Palestinian National Initiative, an organization of grassroots activists who share a burgeoning idea of democracy "undreamed of by the Palestinian] Authority." What has always set Said apart is his ability to state theuncensored truth about the realities of the Palestinian experience, from land expropriation, and dispossession, to assassinations, roadblocks, and house demolitions.
In this book, Said reveals information that never finds its way into the American media, thus providing a real context for our understanding of the Middle East. Fiercely uncompromising, written with clarity and elegance, "From Oslo to Iraq and the Road Map" gives us an essential and unique voice that is more important now than ever before.

Advertisement