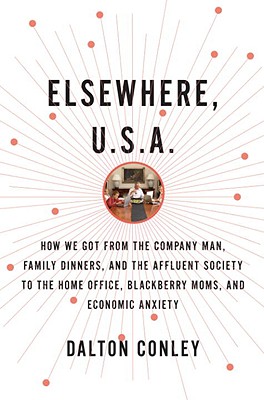 Elsewhere, U.S.A.
How We Got from the Company Man, Family Dinners, and the Affluent Society to the Home Office, BlackBerry Moms
Hardcover

* Individual store prices may vary.
Other Editions of This Title:
Compact Disc (1/13/2009)
Paperback (4/6/2010)
Compact Disc (8/18/2015)
MP3 CD (8/18/2015)
MP3 CD (1/13/2009)
MP3 CD (1/13/2009)
Compact Disc (1/13/2009)
Description
Over the past three decades, our daily lives have changed slowly but dramatically. Boundaries between leisure and work, public space and private space, and home and office have blurred and become permeable. How many of us now work from home, our wireless economy allowing and encouraging us to work 24/7? How many of us talk to our children while scrolling through e-mails on our BlackBerrys? How many of us feel overextended, as we are challenged to play multiple roles–worker, boss, parent, spouse, friend, and client–all in the same instant?

Dalton Conley, social scientist and writer provides us with an X-ray view of our new social reality. In Elsewhere, U.S.A., Conley connects our daily experience with occasionally overlooked sociological changes: women's increasing participation in the labor force; rising economic inequality generating anxiety among successful professionals; the individualism of the modern era–the belief in self-actualization and expression–being replaced by the need to play different roles in the various realms of one's existence. In this groundbreaking book, Conley offers an essential understanding of how the technological, social, and economic changes that have reshaped our world are also reshaping our individual lives.
Praise For Elsewhere, U.S.A.: How We Got from the Company Man, Family Dinners, and the Affluent Society to the Home Office, BlackBerry Moms…
"A well-written, explicitly reasoned argument does not a convert make, nor does the marshaling of facts and figures and phenomena. What New York University sociology professor and author (Honky, 2000; The Pecking Order, 2005; et al.) Conley sets forth is the premise that our work and our lives now blend–and that he is providing a map to this new cultural landscape. For certain, he pokes into and prods every facet of our lives to point out supporting proof points: many offices, for instance, have become total institutions, providing food, concierge services, babysitting, and child care, among other life needs. Public has become private–and vice versa; witness the onset of advertainment (commercials in movies, for one) and cell-phone blasphemy. Marriage has been transformed into serial monogamy, or, as he prefers, dynamic polygamy. And the intravidual reigns, uncomfortable disharmony between inner and outer selves. The thinking's sound, yet it's an amalgamation and synthesis of others' observations. What would truly rock would be guides on how to cope in this not-new world of always on, 24/7." —Booklist


"No one has written about how we live today more vividly, and more accurately, than Dalton Conley. Elsewhere, U.S.A. explains the multitude of changes–technological, economic, psychological, cultural–that have affected us in recent years, and he makes it possible to find out who we are now as Americans, and why."
–Richard Florida, director, Martin Prosperity Institute, University of Toronto, and author of The Rise of the Creative Class

"Put down your iPhones and BlackBerrys, dear friends, long enough to read this important book about America's new 'elsewhere society,' where round-the-clock connectivity and multitasking are reshaping the most basic patterns of work, family, and values. Your guide to this brave new world is Dalton Conley, one of America's most brilliant and perspective social commentators and scholars, and an excellent and entertaining writer as well. No other book compares in describing and explaining the texture of modern lives in a hypernetworked and hypermarketized world. Conley's insights might just help to rescue the 'priceless' from the credit card ads and restore it to work, family, friends, and identity, all of which are under siege in our elsewhere society."
–Jeffrey D. Sachs, author of The End of Poverty
Pantheon, 9780375422904, 240pp.
Publication Date: January 13, 2009
About the Author
DALTON CONLEY is University Professor of the Social Sciences and Acting Dean for the Social Sciences at New York University. He also teaches at NYU's Wagner School of Public Service, as an Adjunct Professor of Community Medicine at Mount Sinai School of Medicine, and he as a Research Associate at the National Bureau of Economic Research. His essays have appeared in "The New York Times, "the" Los Angeles Times, Forbes, " and "Slate," among other publications. His previous books include "Honky; Being Black, Living in the Red: Race, Wealth, and Social Policy in America;" and "The Pecking Order: Which Siblings Succeed and Why." Conley lives in New York City.
or
Not Currently Available for Direct Purchase