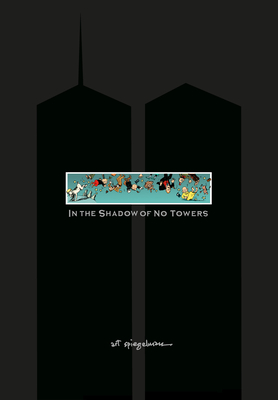 In the Shadow of No Towers (Pantheon Graphic Library)
Hardcover

* Individual store prices may vary.
Description
For the Pulitzer Prize-winning author of Maus, the terrorist attacks of September 11th were both highly personal and intensely political. In the Shadow of No Towers is a masterful and moving account of the events and aftermath of that tragic day.

Spiegelman and his family bore witness to the attacks in their lower Manhattan neighborhood: his teenage daughter had started school directly below the towers days earlier, and they had lived in the area for years. But the horrors they survived that morning were only the beginning for Spiegelman, as his anguish was quickly displaced by fury at the U.S. government, which shamelessly co-opted the events for its own preconceived agenda.

He responded in the way he knows best. In an oversized, two-page-spread format that echoes the scale of the earliest newspaper comics (which Spiegelman says brought him solace after the attacks), he relates his experience of the national tragedy in drawings and text that convey—with his singular artistry and his characteristic provocation, outrage, and wit—the unfathomable enormity of the event itself, the obvious and insidious effects it had on his life, and the extraordinary, often hidden changes that have been enacted in the name of post-9/11 national security and that have begun to undermine the very foundation of American democracy.
Praise For In the Shadow of No Towers (Pantheon Graphic Library)…
"Art Spiegelman…to the comics world is a Michelangelo and a Medici both, an influential artist who is also an impresario and an enabler of others...[Maus's] great innovation–unmatched and possibly unmatchable–was in its combination of style and subject….It would be almost impossible to overstate the influence of Maus among other artists."
–New York Times Magazine

"Spiegelman has become one of The New Yorker's most sensational artists, in recent years drawing illustrations for covers that are meant not just to be plainly understood but also to reach up and tattoo your eyeballs with images....From his Holocaust saga [Maus] in which Jewish mice are exterminated by Nazi cats, to the The New Yorker covers guaranteed to offend, to a wild party that ends in murder: Art Spiegelman's cartoons don't fool around."
– Los Angeles Times

"A startling and provocative work."
- Newsday

"For one moment on an otherwise perfect fall day in Manhattan, time stood absolutely still, and since then history has rushed past too quickly for any artist to keep up. This disjunction between experience and understanding gives In the Shadow of No Towers something so much more than a linear narrative: It is a love letter to a city that this artist, no matter his fears, could not bring himself to leave."
-Paper Magazine

"Like Maus, Spiegelman's Pulitzer-winning graphic novel about the Holocaust, Shadow brilliantly captures incendiary history through a personal story — in this case, of the artist affirming his choice to be a "rooted" cosmopolitan."
-GQ

"A posttraumatic masterpiece."
-O Magazine

"This is a powerful and quirky work of visual storytelling by a master comics artist."
-Publisher's Weekly (starred review)

"You don't have to be a comics aficionado to see that Spiegelman has done a superb job of capturing the tragic absurdity of life in New York City on 9/11 and for months thereafter."
-Newsweek
Pantheon, 9780375423079, 42pp.
Publication Date: September 7, 2004
About the Author
Art Spiegelman is cofounder/editor of Raw, the acclaimed magazine of avant-garde comics and graphics. From 1992 to 2002, he was a staff artist and writer for The New Yorker, which published his powerful black-on-black 9/11 cover a few days after the event. His drawings and prints have been exhibited in museums and galleries throughout the world. Maus received the Pulitzer Prize and was nominated for the National Book Critics Circle Award. Spiegelman lives in New York City with his wife, Françoise Mouly, and their two children.