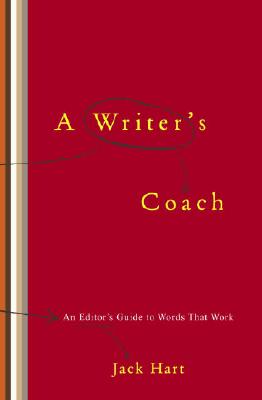 A Writer's Coach: An Editor's Guide to Words That Work (Hardcover)
An Editor's Guide to Words That Work
Pantheon, 9780375423277, 304pp.
Publication Date: August 22, 2006
* Individual store prices may vary.
or
Not Currently Available for Direct Purchase
Description
A practical, innovative step-by-step approach to the writing process from one of the most acclaimed writing coaches in the country

In A Writer's Coach, Jack Hart–a managing editor at The Oregonian–shares the wisdom with which he has coached reporters to Pulitzer Prize—winning success. He gives invaluable advice on gathering ideas, writing theme statements and outlines, and using the "ladder of abstraction" to add variety and texture to writing. He provides a lexicon of lead sentences. He shares his ideas for composing and sustaining powerful writing, and for ensuring that what you write will be accessible to your audience. Discussing the ways writers can trip themselves up–procrastination, writer's block, and excessive polishing, to name just a few–Hart demonstrates how to overcome each obstacle. Excerpts from writers such as Ernest Hemingway and Joan Didion, and from articles gathered from magazines and newspapers, provide inspiration and instructive examples of both inadequate and exemplary writing.

Like a personal, portable writing coach, A Writer's Coach will be a boon to writers, editors, teachers, and students.
Praise For A Writer's Coach: An Editor's Guide to Words That Work…
"Wise, practical, and smart, A Writer's Coach is an exceptional book, offering advice with good humor and great insight. Jack Hart's approach to the writing process will engage you while you're learning, console you when you're stuck, and, best of all, inspire you to be a better writer."
–Susan Orlean, author of The Orchid Thief

"A landmark book. A Writer's Coach gets behind the mystique and shows how the successful writer thinks his or her way through stories. It will remove much of the pain, fear, and confusion from a writer's life. With Jack Hart as your guide, the writing process just makes good sense."
–Jon Franklin, author of Writing for Story

"Jack Hart is the nation's finest coaching editor and teacher, and his book towers above others of its kind. A hands-on guide remarkable for its completeness, its clarity, and its passion, A Writer's Coach is an instant classic."
–William E. Blundell, author of The Art and Craft of Feature Writing

"No newspaper editor in America has done more to inspire good writing than Jack Hart. With this book, his wisdom is now available to writers of all ages."
–Roy Peter Clark, senior scholar, The Poynter Institute, and author of Writing Tools

"At last, writers who have not had the opportunity to work with Jack Hart can benefit from his legendary skills as an editor. A Writer's Coach will be a godsend for reporters and editors."
–Stuart Warner, writing coach and enterprise editor, The Plain Dealer

"No one has a better command of good writing than Jack Hart. He pays attention to the tiniest details as well as the large concepts–and no concept is too big or too complex. His coaching has produced generations of fine writers. His book will help generations more."
–Amanda Bennett, editor, The Philadelphia Inquirer
Advertisement