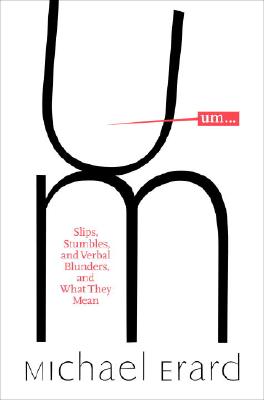 Um...
Slips, Stumbles, and Verbal Blunders, and What They Mean
Hardcover

* Individual store prices may vary.
Other Editions of This Title:
Paperback (8/12/2008)
Description
Um… is about how you really speak, and why it's normal for your casual, everyday speech to be filled with verbal blunders — about one in every ten words. Why do they happen? Why can't we control them? What can you tell about the people who make them?

In this charming, engaging account of language in the wild, linguist and writer Michael Erard also explains why our attention to some verbal blunders rises and falls. Why was the spoonerism named after Reverend Spooner, not some other absent-minded person? Where did the Freudian slip come from? Why do we prize "umlessness" in speaking? And how do we explain the American presidents who are famous for their verbal blundering?

You'll have new ways to listen to yourself and others once you've met the people who work with verbal blunders every day — journalists, transcribers, interpreters, police officers, linguists, psychologists, among others — and when you've learned what verbal blunders tell about who we are and what we want.

A rich investigation of a fascinating subject, full of entertaining examples, Um. . . is essential reading for talkers and listeners of all stripes.
Praise For Um...: Slips, Stumbles, and Verbal Blunders, and What They Mean…
Praise for Um . . .

"Some people are bird watchers and learn a great deal about the birds they watch. Michael Erard watches word botchers and, in the process, enriches our experience of what language is about and what makes us human. After reading Um…, you'll never hear the thud and blunder of everyday speech in the same way."
–Richard Lederer, author of Anguished English

"Who'd have thought that a book called Um could be a page-turner? But Michael Erard's investigtions of "applied blunderology" come to something more than the familiar catalogues of verbal slips and gaffes from the high and the low. It's also a fascinating meditation on why blunders happen, and what they tell us about language and ourselves. At its deepest level,  Um is an exercise in the zen of attention, which tunes us in to the revealing noises and pauses that we spend most of our time tuning out."
–Geoffrey Nunberg, NPR commentator

"A lascinating fook at yet another revealing instance of human imperfection."
–Kirkus (Starred Review)

"Included troughout are hilarious highlight reeks of bloopers, boners, spoonerisms, malapropisms, and 'eggcorns'... His work challenges the reader to think about his or her own speech in an entirely new way."
–Publishers Weekly
Pantheon Books, 9780375423567, 287pp.
Publication Date: August 21, 2007
About the Author
Michael Erard, a graduate of Williams College, received an M.A. in linguistics and a Ph.D. in English from the University of Texas. His articles about language have appeared in "The Atlantic Monthly," "The New""York Times, Wired, Technology Review," and many other publications. He lives in Austin, Texas.
or
Not Currently Available for Direct Purchase