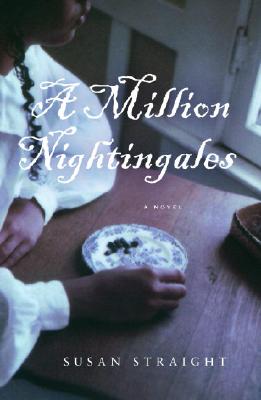 A Million Nightingales
Hardcover

* Individual store prices may vary.
Other Editions of This Title:
Paperback (5/8/2007)
MP3 CD (6/28/2016)
Description
A haunting, beautifully written novel set in early-nineteenth-century Louisiana: the tale of a slave girl's journey—emotional and physical—from captivity to freedom.
Susan Straight has been called "a writer of exceptional gifts and grace" (Joyce Carol Oates). In A Million Nightingales she brings those gifts to bear on the story of Moinette, daughter of an African mother and a white father she never knew. While her mother cares for the plantation linens, Moinette tends to the master's daughter, which allows her to eavesdrop on lessons. She also learns that she is property, and at fourteen she is sold, separated from her mother without a chance to say goodbye. Heartbroken and terrified, and with a full understanding of what she will risk, Moinette begins almost immediately to prepare herself for the moment when she will escape.

It is Moinette's own voice that we hear—bright, rhythmic, observant, and altogether captivating–as she describes her journey through a world of brutality, sexual violence, and loss. Quick to see the patterns of French, American, and African life play out around her, Moinette makes her way from sugarcane fields through mysterious bayous to the streets of Opelousas, where the true meaning of freedom emerges from the bonds of love.
An uncommonly rich novel, brimming with event and character, A Million Nightingales is a powerful confirmation of the remarkable novelist we have in Susan Straight.
Praise For A Million Nightingales…
Advance Praise for A Million Nightingales

"From the first beautiful sentence, I felt transported to a world as vivid as the one outside my window. Moinette is one of those rare characters who enlarges both our sense of history and our humanity."
—Judith Freeman, author of Red Water

"In all of her novels, Susan Straight has given voice to characters whose struggles for dignity and love have been fought on the twentieth-century battleground of race; with A Million Nightingales she digs even deeper into our common ground. But it is love and humanity, not race, that ultimately gives such wrenching power to A Million Nightingales–a beautiful, redemptive novel."
—Kate Moses, author of Wintering

"Poetic but fierce, this is Susan Straight's most ambitious–and successful–novel yet."
—Vendela Vida, author of And Now You Can Go

"An amazing novel. Even as Straight has sounded her trademark theme of filial love, she has taken us back to one of the most fascinating, contradictory, and complicated settings in the American past. No cultural historian has more accurately revealed the laws, customs, beliefs, and language of antebellum Louisiana. No other novelist has used cultural realities to motivate characters that seem more real, to tell a story that is more affecting. While Moinette's story could have happened only in that place and time, Straight has not only made it feel real there and then but has also made it connect with here and now."
—David Bradley, author of The Chaneysville Incident
Pantheon, 9780375423642, 352pp.
Publication Date: March 21, 2006
or
Not Currently Available for Direct Purchase