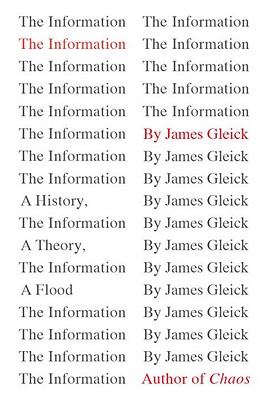 The Information
A History, a Theory, a Flood
Hardcover

* Individual store prices may vary.
Other Editions of This Title:
Digital Audiobook (2/28/2011)
Paperback (3/6/2012)
Hardcover (1/1/2011)
Hardcover (3/1/2011)
Compact Disc (3/1/2011)
Description
James Gleick, the author of the best sellers Chaos and Genius, now brings us a work just as astonishing and masterly: a revelatory chronicle and meditation that shows how information has become the modern era's defining quality the blood, the fuel, the vital principle of our world.
The story of information begins in a time profoundly unlike our own, when every thought and utterance vanishes as soon as it is born. From the invention of scripts and alphabets to the long-misunderstood talking drums of Africa, Gleick tells the story of information technologies that changed the very nature of human consciousness. He provides portraits of the key figures contributing to the inexorable development of our modern understanding of information: Charles Babbage, the idiosyncratic inventor of the first great mechanical computer; Ada Byron, the brilliant and doomed daughter of the poet, who became the first true programmer; pivotal figures like Samuel Morse and Alan Turing; and Claude Shannon, the creator of information theory itself.
And then the information age arrives. Citizens of this world become experts willy-nilly: aficionados of bits and bytes. And we sometimes feel we are drowning, swept by a deluge of signs and signals, news and images, blogs and tweets. The Information is the story of how we got here and where we are heading.
Praise For The Information: A History, a Theory, a Flood…
"With his ability to synthesize mounds of details and to tell rich stories, Gleick ably leads us on a journey from one form of communicating information to another." –Publishers Weekly, Top 100 Books of 2011

"So ambitious, illuminating and sexily theoretical that it will amount to aspirational reading for many of those who have the mettle to tackle it…The Information is to the nature, history and significance of data what the beach is to sand." –New York Times

"[A] tour de force…This is intellectual history of tremendous verve, insight, and significance. Unfailingly spirited, often poetic, Gleick recharges our astonishment over the complexity and resonance of the digital sphere and ponders our hunger for connectedness…Destined to be a science classic, best-seller Gleick's dynamic history of information will be one of the biggest nonfiction books of the year." –Booklist, starred review

"With his brilliant ability to synthesize mounds of details and to tell rich stories, Gleick leads us on a journey from one form of communication information to another…Gleick's exceptional history of culture concludes that information is indeed the blood, the fuel, and the vital principle on which our world runs." –Publishers Weekly, starred review

"Rich and fascinating." –Washington Post

"No author is better equipped for such a wide- ranging tour than Mr. Gleick. Some writers excel at crafting a historical narrative, others at elucidating esoteric theories, still others at humanizing scientists. Mr. Gleick is a master of all these skills." –Wall Street Journal
 
"Gleick presses rousing tales from the history of human communication into the service of one Very Big Idea…he does what only the best science writers can: take a subject of which most of us are only peripherally aware and put it at the center of the universe." –Time

"A wide-ranging, deeply researched and delightfully engaging history…" –Los Angeles Times

"The gifted science writer James Gleick explains how we've progressed from seeing information as the expression of human thought and emotion to looking at it as a commodity that can be processed, like wheat or plutonium. It's a long, complicated, and important story, and in Gleick's hands it's also a mesmerizing one…As a celebration of human ingenuity, The Information is a deeply hopeful book." –Nicholas Carr, Daily Beast

"A grand narrative if ever there was one…Gleick provides lucid expositions for readers who are up to following the science and suggestive analogies for those who are just reading for the plot. And there are anecdotes that every reader can enjoy…A prodigious intellectual survey." –New York Times Book Review  
 
"A highly ambitious and generally brilliant effort to tie together centuries of disparate scientific efforts to understand information as a meaningful concept…By the close of the book you cannot think of information as you might have before. It has become, quite palpably, something different than almost anything we encounter: resistant to decay and capable of perfect self-reproduction. It outlasts the organic beings who create it, and, by replication, the inorganic mediums used to store it. The Information—not unlike other science books that tackle big human quests for understanding—at times bears more than a passing resemblance to a spiritual text." –Slate

"When collected together in this coherent historical narrative, [his observations] do feel 'revelatory,' as his publisher claims…Gleick is wrestling with truly profound material, and so will the reader. This is not a book you will race through on a single plane trip. It is a slow, satisfying meal." –Columbia Journalism Review

"Accessible and engrossing."
—Library Journal

"The author's skills as an interpreter of science shine…for completist cybergeeks and infojunkies, the book delivers a solid summary of a dense, complex subject."
—Kirkus

"Extraordinary in its sweep…Gleick's story is beautifully told, extensively sourced, and continually surprising." –Brainiac, Boston Globe online

"Entertaining, funny and clever." –New Scientist

"A brilliant, panoramic view of how we save and communicate knowledge...and provides thrilling portraits of the geniuses behind the inventions. Provocative and illuminating." –People

"A commanding chronicle of the information revolution…tantalizing." –philly.com
 
"An ambitious, sprawling work." –Kirkus 
 
"Absorbing…The Information is lyrical, patient, impeccably researched, and full of interesting digressions." –The Boston Globe  

"Tremendously enjoyable. Gleick has an eye and ear for the catchy detail and observation…offers a broad and fascinating foundation, impressive in its reach. A very good read, certainly recommended." –The Complete Review

"A powerful and rigorous and at times very moving history of information…You can dip into The Information at just about any point and emerge with a magnificent detail." –Time, Top 10 of Everything 2011

"Heady…This intellectual history is intoxicating—thanks to Gleick's clear mind, magpie-styled research and explanatory verve." –Cleveland.com 
 
"To write a history of information…it's beyond ambitious—it's audacious. But James Gleick pulls it off…a gracefully written book." –USA Today

"A book about everything…Gleick sees the world as an endlessly unfolding opportunity in which 'creatures of the information' might just recognize themselves." –Shelfari

"An interesting and detailed history of how we've moved from an alphabet to words, writing, dictionaries, etc." –Alpha 
 
"Imaginatively conceived and staggeringly researched…a transformative work." –The Phoenix.com 

"[Gleick] remains a gifted writer with a passion for a subject that would easily drown many of us." –About.com

"Expertly draws out neglected names and stories from history…Gleick's skill as an expicator of counterintuitive concepts makes the chapters on logic, the stuff even most philosophy majors slept through in class, brim with tension." –Oregonlive.com 
 
"This is the page-turner you never knew you desperately wanted to read." –The Stranger Slog
 
"This is an amazing book. If you have any designs on being a professor of information, you should read this book slowly and thoughtfully." –ALA TechSource

"The most ambitious, compelling, insert-word-of-intellectual-awe-here book to read this year." –The Atlantic

"Wide-ranging and fascinating." –New York Journal of Books 

"The most comprehensive book written, to date, about information. An amazing erudite and yet highly readable account…amongst the most profound books written about technology." –Tech Crunch, TCTV 

"Very fascinating…It will make readers see the world more intelligently than before. Essential." –Choice, Current Reviews for Academic Libraries 

"In his fascinating new history of the rise and the breadth of today's communication age, Gleick sheds light on the many ways we impart and receive information." –New York Times Styles 

"Gleick is one of the great science writers of our age…The Information is an entertaining and instructive romp through the history of information technologies…for anyone interested in learning more about the important and ever-more-prominent role that information plays in our society, the book is not only a pleasure to read, it is well worth reading." –American Scientist

"Grand, lucid and awe-inspiring…information is about a lot more than what human beings have to say to each other. It's the very stuff of reality, and never have its mysteries been offered up with more elegance or aplomb." –Salon.com best of 2011 

"Magnificent…this elegant, insightful study reminds us that we have always been adrift in an incomprehensible universe." –LA Times best books of 2011

"The Information is lyrical, patient, impeccably researched, and jammed with interesting—um, well—information." –Boston Globe Best of 2011

"A sprawling yet fascinating book by an acclaimed American science writer, The Information ranges from biology to particle physics and explores the links between information, communications, data and meaning from earliest times to the present day." –The Economist


Praise for James Gleick's
Chaos

"An awe-inspiring book. Reading it gave me the sensation that someone had just found the light switch."
—Douglas Adams
 
"Enthralling. Full of beautifully strange and strangely beautiful ideas."
—Douglas Hofstadter
 
Genius
 
"The clearest statement I have seen of the true spirit of science."
—Freeman J. Dyson
 
Isaac Newton
 
"A masterpiece."
—John Banville
 
"A brilliant and engaging study in the paradoxes of the scientific imagination."
—Richard Holmes
Pantheon Books, 9780375423727, 526pp.
Publication Date: March 1, 2011
About the Author
James Gleick is our leading chronicler of science and modern technology. His first book, Chaos, a National Book Award finalist, has been translated into twenty-five languages. His best-selling biographies, Genius: The Life and Science of Richard Feynman and Isaac Newton, were short-listed for the Pulitzer Prize.
Coverage from NPR
or
Not Currently Available for Direct Purchase