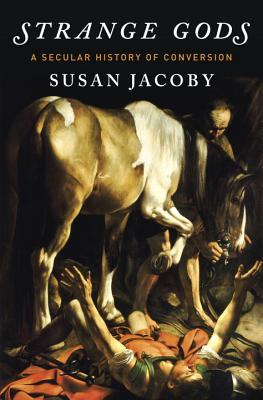 Strange Gods
A Secular History of Conversion
Hardcover

* Individual store prices may vary.
Other Editions of This Title:
Digital Audiobook (2/15/2016)
Paperback (3/21/2017)
Compact Disc (2/16/2016)
MP3 CD (2/16/2016)
MP3 CD (2/16/2016)
Compact Disc (2/16/2016)
Description
In a groundbreaking historical work that addresses religious conversion in the West from an uncompromisingly secular perspective, Susan Jacoby challenges the conventional narrative of conversion as a purely spiritual journey. From the transformation on the road to Damascus of the Jew Saul into the Christian evangelist Paul to a twenty-first-century "religious marketplace" in which half of Americans have changed faiths at least once, nothing has been more important in the struggle for reason than the right to believe in the God of one's choice or to reject belief in God altogether.
 
Focusing on the long, tense convergence of Judaism, Christianity, and Islam—each claiming possession of absolute truth—Jacoby examines conversions within a social and economic framework that includes theocratic coercion (unto torture and death) and the more friendly persuasion of political advantage, economic opportunism, and interreligious marriage. Moving through time, continents, and cultures—the triumph of Christianity over paganism in late antiquity, the Spanish Inquisition, John Calvin's dour theocracy, Southern plantations where African slaves had to accept their masters' religion—the narrative is punctuated by portraits of individual converts embodying the sacred and profane. The cast includes Augustine of Hippo; John Donne; the German Jew Edith Stein, whose conversion to Catholicism did not save her from Auschwitz; boxing champion Muhammad Ali; and former President George W. Bush. The story also encompasses conversions to rigid secular ideologies, notably Stalinist Communism, with their own truth claims.
 
Finally, Jacoby offers a powerful case for religious choice as a product of the secular Enlightenment. In a forthright and unsettling conclusion linking the present with the most violent parts of the West's religious past, she reminds us that in the absence of Enlightenment values, radical Islamists are persecuting Christians, many other Muslims, and atheists in ways that recall the worst of the Middle Ages.

(With 8 pages of black-and-white illustrations.)
Praise For Strange Gods: A Secular History of Conversion…
"In book after book [Jacoby] has been a paradoxically effective religion teacher, and this new book, her most ambitious yet, is no exception. Atheists as self-conscious and purposeful about their irreligion as she are a small minority in America and a tiny minority in the world at large, but her improbable strength is that she makes the subject of religion, a subject she can never be done talking about, contagiously interesting….True to her calling as a heroine of free thought, she fights the good fight for irreligion as she goes, treating her reader to many a saucy aside, many a laugh-line for the baptismally decertified….Jacoby's book is a page-turner, not so much because it tells a single, forward-rushing story but because, in the manner of a good teacher each of whose classes leaves you eager for the next, any two of her chapters will leave you ready for a third." —Jack Miles, Los Angeles Review of Books

"Susan Jacoby turns her feisty brilliance on the history of religious conversions, famous and infamous, simultaneously giving us a history of religious intolerance. Her combination of intellectual rigor, vigor, erudition, and integrity makes Strange Gods wonderfully lively and enlightening." —Rebecca Goldstein, author of Plato at the Googleplex

"The modern wave of secularist books has seen no author more historically erudite than Susan Jacoby. Immensely learned, yet with a lightly witty style, she smoothly surveys the whole phenomenon of religious conversion, from ancient times to our own. The section on slavery in America is especially moving, giving the lie to the myth that abolitionism was primarily motivated by religion. And—a  blessed bonus—she has no truck with that pretentious gimmick favoured by so many historians, the historic present tense." —Richard Dawkins, author of Brief Candle in the Dark

"Susan Jacoby's Strange Gods is an astonishing work: an audacious attack on idées reçues about conversion, an exposure of a legion of hypocrisies, a spirited guidebook to religions and heresies one remembers at best dimly, and a passionate defense of the right to reason and choose. Jacoby is a supremely intelligent and brave writer. It is impossible to praise her book too highly." —Louis Begley, author of The Dreyfus Affair

"Rare is the person who can combine deep scholarship with powerful narrative abilities and a capacity for autobiographical detail. Susan Jacoby's Strange Gods does all of these things, and in the service of a fascinating subject.  Those who change their religion, those who do not, and those who could care less will all find much of value in her book." —Alan Wolfe, At Home in Exile

"One of America's most astute cultural critics, Susan Jacoby writes more intelligently and insightfully than any author I have read on the vexed issues of religious identity, freedom, ideology, and the collision of secular and theological forces." —James Shapiro, author of The Year of Lear

"In a work blending culture, religion, history, biography, and a bit of memoir (with more than a soupcon of attitude), the author of The Great Agnostic: Robert Ingersoll and American Freethought returns with a revealing historical analysis of religious conversions….The author…impressively combines thorough research and passionate writing. Jacoby draws the first detailed maps of a terrain that has been very much in need of intelligent, careful cartography." —Kirkus Reviews *starred review*

"This militantly secular history of religious conversion reconsiders famous converts, from Augustine to Muhammad Ali, to reveal the complex web of political, economic, and social forces that can lead to individual conversions….Its conclusion—that religious coercion inevitably "produces a false uniformity that collapses as swiftly or slowly as social conditions permit"—is powerful." —The New Yorker
 
"A vivid picture of the ways in which conversions happen and the myriad reasons behind their happening." —Booklist

"Neither a scathing New Atheist tract nor a dry academic history, Jacoby's sweeping account of religious conversion, from Augustine to Muhammad Ali to the horrors of medieval Spain and modern-day Raqqa, finds an essential new angle of approach. An ardent secularist but a child of multiple American converts, Jacoby chooses to focus not on spiritual or psychological motives but on the social forces that drive religious change. Strange Gods may be off-putting to believers, but it's a likely story and, in her hands, a lively one." —Vulture.com

"[Jacoby's] book engagingly looks at the phenomenon of conversion throughout Western history, pausing for terrific specific examinations of famous cases, from Saint Augustine to John Donne to Muhammad Ali, and although her treatment throughout sparkles with the rich, lively thinking readers have come to associate with this author, her sharp points are sharper here than they've been in any of her previous books (including even her brilliant 2008 The Age of American Unreason, which certainly pulled no punches). Her main concentration in these pages might be on the changeability of religious creeds, but she never loses sight of how toxic those creeds can be, and how important it is to be honest about that." —Open Letters Monthly

"'Strange Gods,' with its scope (Augustine of Hippo to Muhammad Ali), insight, and carefully assessed judgments, emerges as an engaging rumination on—if not quite a history of—this tricky and multifarious subject." —Christian Science Monitor

"Illuminating….[This book] arrives at a crucial moment, when belief systems that demand blind adherence are once again on the rise, jeopardizing rationalist gains that have broadened human possibilities." —Miami Herald
 
"Jacoby is an atheist and secular humanist; her goal isn't to push an atheist agenda nor discredit believers. She does, however, feel that secularists have been ignored and mistreated as exemplified by the fact that political candidates do not recognize, and therefore ignore "secular voters." Unlike the new atheism that takes an incendiary stance toward religion, attributing many of life's ills to denominations, Jacoby's book is refreshingly tolerant while retaining her defense of secularism….A plea for mutual respect between believers and secularists….Convincing." —Mormons into Media
 
"In "Strange Gods," Jacoby turns a respectful yet skeptical eye on a series of conversion dramas. For much of human history, she argues, converts switched religion under social or political pressure; more recently, it's nearly always a result of intermarriage. Among the most fascinating stories are those that don't fit either narrative: that of Edith Stein, a German Jewish philosophy student who became a Catholic nun in 1933, which didn't save her from being killed at Auschwitz; or Muhammad Ali, whose 1964 decision to join the Nation of Islam confused and even enraged white sportswriters and boxing fans. Half a century later, Jacoby points out, Ali is beloved — in part, she argues, because of a choice that represented 'our most cherished traditions exalting freedom of conscience.'" —Boston Globe

Pantheon, 9780375423758, 512pp.
Publication Date: February 16, 2016
About the Author
SUSAN JACOBY is the author of eleven previous books, most recently Never Say Die, The Great Agnostic: Robert Ingersoll and American Freethought, The Age of American Unreason, Alger Hiss and the Battle for History,Freethinkers: A History of American Secularism, and Half-Jew: A Daughter's Search for Her Family's Buried Past. Her articles have appeared frequently in the op-ed pages of The New York Times and in forums that include The American Prospect, Dissent, and The Daily Beast. She lives in New York City. For more information, visit www.susanjacoby.com.
Coverage from NPR
or
Not Currently Available for Direct Purchase