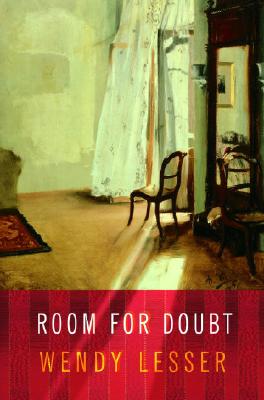 Room for Doubt
Hardcover

* Individual store prices may vary.
Other Editions of This Title:
Paperback (4/1/2008)
Description
Room for Doubt is about one writer's growing suspicion that there are more things in heaven and earth than were dreamt of in her previous philosophy. Through Wendy Lesser's account of her stay in a city that she never imagined she would see, a book she thought she wanted to write but never did, and a friendship that constantly broke down and endured, she offers us an unusual journey through the terrain of feeling and beliefs, and in the end shows us how, once examined, things are never quite what she thought they were.

Raised as an agnostic who acknowledged her Jewish heritage mainly because it seemed like caving in to Hitler not to do so, Lesser always assumed that she would never visit Germany. Yet once in Berlin, she is astonished to discover a place that is at once spur and antidote to many of her dissatisfactions and longings. Hoping, in Berlin, to write a book about the Scottish philosopher David Hume, she is not sure whether it is the writer or his ideas that she finds sympathetic, and eventually she comes to see that the only way to learn something from Hume is not to think about him as having something to teach. Instead of writing about Hume, she decides to write about her "difficult friendship" with Leonard Michaels. In doing so, she comes to see that their
difficulties––fights and reconciliations, mutual obstinacy, and an intensely shared interest in the arts––were an essential and binding aspect of a friendship which, despite Michaels' recent death, remains an important part of her life.

A completely honest, at times funny, and always engaging self-portrait unlike any other memoir or autobiography.
Praise For Room for Doubt…
"Wonderfully intelligent and cultured in the best sense, Room for Doubt is a provocative and touching account of a rare friendship."
–Mary Gaitskill, author of Veronica

"Wendy Lesser has always been a tenacious and subtle critic, but in Room for Doubt there is a new, more poignant and plain-speaking eloquence as she writes at and about her own limits, her own resistances as a writer. Elegies and confessions, memoirs and eulogies should only be written now by people who prefer not to write them. Room for Doubt, which is all of these and more, is written with a kind of skeptical passion. It is a wonderful book."
–Adam Phillips, editor of The Penguin Freud Reader

"Wendy Lesser's extraordinary alertness, intelligence, and curiosity have made her one of America's most significant cultural critics and editors. Now in Room for Doubt she turns these qualities on herself, probing her fascination with Berlin, her engagement with the philosophy of David Hume, and above all her 'difficult friendship' with the writer Leonard Michaels. Forthright, unflinching, and intensely personal, Lesser's book is the eloquent expression of someone at home in herself and the world."
–Stephen Greenblatt, author of Will in the World: How Shakespeare Became Shakespeare
Pantheon, 9780375424007, 224pp.
Publication Date: January 9, 2007
or
Not Currently Available for Direct Purchase