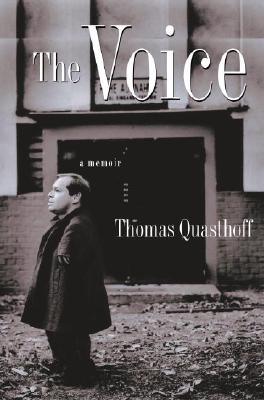 The Voice: A Memoir (Hardcover)
A Memoir
Pantheon, 9780375424069, 256pp.
Publication Date: June 17, 2008
* Individual store prices may vary.
or
Not Currently Available for Direct Purchase
Description
The Voice is the profoundly inspiring memoir of one of the most sought after and admired classical singers in the world--a man who has arrived at the summit of his artistry by overcoming extraordinarily daunting odds.

Thomas Quasthoff, the German bass baritone, stands a shade over four feet tall, his severely underdeveloped arms and hands the result of thalidomide poisoning while he was in his mother's womb. But through stunning determination enlivened by an impish sense of human, Quasthoff has overcome his physical limitations and Dickensian childhood, cultivating his musical genius and thrilling classical music lovers with his sublime voice.

What shines through Quasthoff's astonishing story is his staunch refusal to wallow in self-pity, to see himself as a victim. Whether he is evoking a harrowing childhood marked by multiple agonizing surgeries, relating folksy family anecdotes, expressing his devotion to his students as a professor of voice, expounding on his love of jazz and American popular music (he is a great admirer of Stevie Wonder), or unburdening himself of his wickedly outspoken views on art and disability, Quasthoff's unerring sense of humanity, boisterous conviviality, and fierce honesty are always on display.

The Voice is utterly winning--a memoir to both marvel at and enjoy.
About the Author
Thomas Quasthoff was born in 1959 in Hildesheim, Germany. In 1988 he won first prize as the prestigious ARD International Music Competition in Munich, which launched his career. He has performed with the world's most distinguished orchestras and conductors (including Claudio Abbado and Simon Rattle). He has won three Grammy Awards: for best classical Vocal Performance in 2000, for his Bach cantatas and Schubert lieder in 2004, and for Best Choral Performance in 2008 for Brahms's "Ein Duetsches Requiem. "Quasthoff is a professor at the Hans Eisler School of Music in Berlin. He performs and records throughout the world.
Praise For The Voice: A Memoir…
"If Thomas Quasthoff appeared on an awards show, he would play the master of ceremonies. If he were an animal, he would be a lion, king of the jungle. If he were to play a romantic lead, he'd be the inventively eloquent Cyrano. But Quasthoff, blessed with a bass-baritone voice as soaring and generous as his own spirit, has the great good fortune to play them all--from the playful poet singing lieder to the soulful and magisterial prophet Elijah. Catch him during at unguarded moment offstage, and he'll even indulge in a little Dixieland scat. For a man born with such severe physical limitations, it appears, in fact, that there are no limits."
--Time

"With an appearance and life story so compellingly strange, it would be easy for the miracle of his perseverance and triumph, or the miracle of his perseverance and triumph, or the miracle of such a powerful and deep voice emerging from such a small body, to overwhelm the concert experience. Instead, if there is anything miraculous about Quasthoff, it is that a few minutes into a recital you stop thinking about his physique . . . He channels all of his feelings into his expressive face and subtly shaded voice . . . He holds you with his ability to communicate the mood and meaning of a song."
--The New York Times Magazine

Advertisement