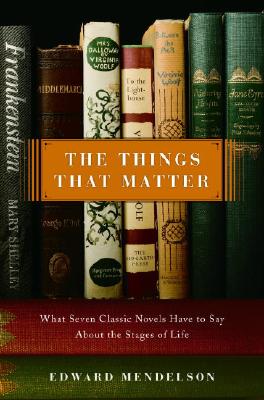 The Things That Matter: What Seven Classic Novels Have to Say About the Stages of Life (Hardcover)
What Seven Classic Novels Have to Say About the Stages of Life
Pantheon, 9780375424083, 288pp.
Publication Date: August 15, 2006
* Individual store prices may vary.
or
Not Currently Available for Direct Purchase
Description
An illuminating exploration of how seven of the greatest English novels of the nineteenth and twentieth centuries—Frankenstein, Wuthering Heights, Jane Eyre, Middlemarch, Mrs. Dalloway, To the Lighthouse, and Between the Acts—portray the essential experiences of life.

For Edward Mendelson—a professor of English and comparative literature at Columbia University—these classic novels tell life stories that are valuable to readers who are thinking about the course of their own lives. Looking beyond theories to the individual intentions of the authors and taking into consideration their lives and times, Mendelson examines the sometimes contradictory ways in which the novels portray such major passages of life as love, marriage, and parenthood. In Frankenstein's story of a new life, we see a searing representation of emotional neglect. In Wuthering Heights and Jane Eyre the transition from childhood to adulthood is portrayed in vastly different ways even though the sisters who wrote the books shared the same isolated life. In Mrs. Dalloway we see an ideal and almost impossible adult love. Mendelson leads us to a fresh and fascinating new understanding of each of the seven novels, reminding us—in the most captivating way—why they matter.

The Things That Matter is a book that will delight all passionate readers.
About the Author
Edward Mendelson is a professor of English and comparative literature at Columbia University. He is the literary executor of W. H. Auden's estate and the editor of Auden's complete works. Among his previous books are "Early Auden, Later Auden," and editions of novels by Anthony Trollope, George Meredith, Thomas Hardy, H. G. Wells, and Arnold Bennett. He lives in New York City with his wife and son.
Praise For The Things That Matter: What Seven Classic Novels Have to Say About the Stages of Life…
"Great works of fiction often not only tell a story but also reveal how we are to live our lives. This sympathetic, profound, and very readable work by one of the finest literary scholars of our time shows us how seven novels can help us with the stages through which we all must pass.

"Edward Mendelson's insights into the meaning of the novels he considers are acute. He reveals dimensions to these works that most of us will never have guessed at, showing, with grace and courtesy, both their deeper significance and the wisdom that they contain about life's challenges. Reading this book places one in the company of an urbane, erudite, and sure-footed guide."
–Alexander McCall Smith

"Edward Mendelson's observations about literature are among the best I have read: deeply knowledgeable, appreciative and attentive, and expressed with the affinity of a scholar and critic who is himself an excellent writer. His book is a pleasure to read and to praise."
–Shirley Hazzard
Advertisement