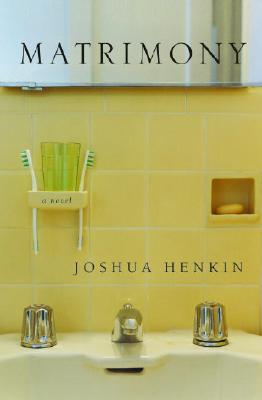 Matrimony
Hardcover

* Individual store prices may vary.
Other Editions of This Title:
Paperback (8/26/2008)
Description
From the moment he was born, Julian Wainwright has lived a life of Waspy privilege. The son of a Yale-educated investment banker, he grew up in a huge apartment on Sutton Place, high above the East River, and attended a tony Manhattan private school. Yet, more than anything, he wants to get out–out from under his parents' influence, off to Graymont College, in western Massachusetts, where he hopes to become a writer.

When he arrives, in the fall of 1986, Julian meets Carter Heinz, a scholarship student from California with whom he develops a strong but ambivalent friendship. Carter's mother, desperate to save money for his college education, used to buy him reversible clothing, figuring she was getting two items for the price of one. Now, spending time with Julian, Carter seethes with resentment. He swears he will grow up to be wealthy–wealthier, even, than Julian himself.

Then, one day, flipping through the college facebook, Julian and Carter see a photo of Mia Mendelsohn. Mia from Montreal, they call her. Beautiful, Jewish, the daughter of a physics professor at McGill, Mia is–Julian and Carter agree–dreamy, urbane, stylish, refined.

But Julian gets to Mia first, meeting her by chance in the college laundry room. Soon they begin a love affair that–spurred on by family tragedy–will carry them to graduation and beyond, taking them through several college towns, over the next ten years. Then Carter reappears, working for an Internet company in California, and he throws everyone's life into turmoil: Julian's, Mia's, his own.

Starting at the height of the Reagan era and ending in the new millennium, Matrimony is about love and friendship, about money and ambition, desire and tensions of faith. It asks what happens to a marriage when it is confronted by betrayal and the specter of mortality. What happens when people marry younger than they'd expected? Can love endure the passing of time?

In its emotional honesty, its luminous prose, its generosity and wry wit, Matrimony is a beautifully detailed portrait of what it means to share a life with someone–to do it when you're young, and to try to do it afresh on the brink of middle age.
Praise For Matrimony…
Prasie for Joshua Henkin's Matrimony

"Charming. . . . Henkin keeps you reading with original characters, witty dialogue and a view that marriage, for all its flaws, is worth the trouble." –People

"Beguiling….[Henkin writes] effortless scenes that float between past and present….[He creates] an almost personal nostalgia for these characters." –Jennifer Egan, The New York Times Book Review

"Elicits a passionate investment in the fate of its characters — truly an up-all-night read." –The Washington Post

"An intimate epic. . . . Henkin is a master of scenemaking. . . . [He has] a knack for isolating the fine, vivid detail." –Chicago Tribune

"Henkin writes with a winningly anachronistic absence of showiness. . . . A lifelike, likable book populated by three-dimensional characters who make themselves very much at home on the page." –The New York Times

"[Henkin's characters] come alive in a spookily familiar way. . . . [He] beautifully render[s] the give and take, back and forth of marriage over the long haul." –The News and Observer (Raleigh, NC)

"In the tradition of John Cheever and Richard Yates, a novel about love, hope, delusion, and the intricate ways in which time's passage raises us up even as it grinds us down. It's a beautiful book." –Michael Cunningham

"Henkin's story is engrossing, so nicely does he describe first love and the intensity of longtime friendship." –Deseret News (Salt Lake City)

"Henkin has written a powerfully moving book about so many of the big things: romantic love, abiding friendship, commitment, betrayal, loss, hope, regret.  Matrimony is a novel at once sprawling and economical — an elegant excavation of the human spirit." –Dani Shapiro

"Matrimony gets it just right, combining well-written prose and colorful characters that are so relatable you feel as if you are a part of their world. . . . Throughout this entertaining page-turner, Henkin does an impressive job of accurately portraying the complexities of modern relationships." –Ladies Home Journal

"Henkin movingly explores marriage, friendship, and the many ways we love and hurt each other. . . . Poignant. . . . Readers who loved Wallace Stegner's Crossing to Safety will find echoes [in Matrimony]." –Bookreporter

"Audacious…. An enchanting book." –The Jewish Daily Forward

"With vibrant intelligence, Matrimony looks at the mystery of how a couple stays together and the ways even the most privileged among us are subject to the disasters wrought by our incalculable natures. A luminous tale, eloquently told." –Joan Silber, author of Ideas of Heaven

"The rich rewards of dailiness, the complexity of ordinary human connection, the unexpected ways that love endures, and the frequently hilarious ironies of modern life are on full display in this warm-hearted, clear-eyed novel. Henkin's portrait of a marriage is a portrait of us all." –Stacey D'Erasmo, author of Tea

"Like in his first novel, Swimming Across the Hudson, Matrimony reveals a gentle writing style, a tangled web of human relationships, a sensitive exploration of family relationships and a poignant authenticity." –The Jerusalem Post

"Henkin is able to explore in depth a surprisingly wide array of issues universal to the experiences of marriage. . . . It is a testament to Matrimony's redemptive power that at the end of the novel, despite all the difficulties the characters face, the reader might still want to get, or stay, married." –Small Spiral Notebook

"Deliciously old-fashioned. . . . With no gimmicks, no tricks, Henkin gives us a cast of complex, flawed, utterly real characters, exploring their inner lives with an astonishing sureness of touch. Beautifully written and deeply felt, Matrimony is a miracle of intelligence and heart." –Brian Morton, author of Starting Out in the Evening
Pantheon, 9780375424359, 304pp.
Publication Date: October 2, 2007
or
Not Currently Available for Direct Purchase