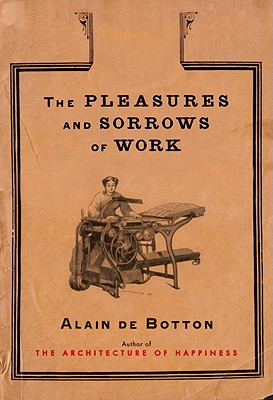 The Pleasures and Sorrows of Work
Hardcover

* Individual store prices may vary.
Other Editions of This Title:
Hardcover (7/1/2009)
MP3 CD (6/2/2009)
Description
We spend most of our waking lives at work–in occupations often chosen by our unthinking younger selves. And yet we rarely ask ourselves how we got there or what our occupations mean to us.

The Pleasures and Sorrows of Work is an exploration of the joys and perils of the modern workplace, beautifully evoking what other people wake up to do each day–and night–to make the frenzied contemporary world function. With a philosophical eye and his signature combination of wit and wisdom, Alain de Botton leads us on a journey around a deliberately eclectic range of occupations, from rocket science to biscuit manufacture, accountancy to art–in search of what make jobs either fulfilling or soul-destroying.

Along the way he tries to answer some of the most urgent questions we can ask about work: Why do we do it? What makes it pleasurable? What is its meaning? And why do we daily exhaust not only ourselves but also the planet? Characteristically lucid, witty and inventive, Alain de Botton's "song for occupations" is a celebration and exploration of an aspect of life which is all too often ignored and a book that shines a revealing light on the essential meaning of work in our lives.
Praise For The Pleasures and Sorrows of Work…
In praise of The Pleasures and Sorrows of Work

"In the place of easy answers, De Botton offers an array of potent and portable insights about the delight and despair we find, daily, in our working lives." —Los Angeles Times

"The Pleasures and Sorrows treats readers to a cast of eccentrics as it examines the thing we spend most of our lives doing." — Business Week

"De Botton's sprightly mix of reportage and rumination expands beyond the workplace to investigate the broader meaning of life." — Publishers Weekly, Starred Review

"Like a combination of Joan Didion, David Foster Wallace and pop philosopher Thomas Moore, De Botton's dense, pensive prose expresses a palpable preoccupation with finding better ways of living in our bewilderingly estranged age, littering astute observations with revealing personal asides…De Botton's perspective is so vivid and self-exposing that it's hard not to crave it well after you've put down his books. He has that rare ability to sum up our experience in a handful of well-chosen words, hinting at the pox upon us at this particular point in history with such incisiveness and wisdom that you can't resist searching for remedies in his subtext…Even as he unravels the limitations and disappointments of modern work, De Botton demonstrates, by example, how to become your own unique, unpredictable invention." —Salon.com

"Exquisitely written - and enhanced by Richard Baker's photos - the book is at once a richly detailed account of tuna fishing, cookie-making, career counseling, and accountancy, and a perceptive philosophical meditation on work, with 'its extraordinary claim' to provide, along with love, the principal source of meaning in our lives."
—Boston Globe

"With de Botton's humor, boundless erudition and capable turns of phrase, it's the best work yet (and certainly the best-timed) from a pre-eminent genre-bender, one certain to find a welcome home in the hands of anyone making a living." –The Portland Oregonian
 
"Alain de Botton's new philosophical treatise, "The Pleasures and Sorrows of Work," feels like an intellectual acid trip without the stimulants. He focuses your gaze where you have never even considered looking and turns upside down your notions of beauty and love and work and what really is involved in crafting a meaningful life. The book is groundbreaking in approach, style and imagination." –Elaine Margolin, The San Fransisco Chronicle


In praise of

The Architecture of Happiness

"The best introduction to architecture I have ever seen . . . [De Botton] writes with an engaging freshness . . . I can't recommend this book too highly. It gets just about everything right."
—The Boston Globe

"A perceptive, thoughtful, original and richly illustrated exercise in the dramatic personification of buildings of all sorts."
—The New York Review of Books

"With originality, verve and wit, de Botton explains how we find reflections of our own values in the edifices we make . . . . Altogether satisfying."
—San Francisco Chronicle

"An interesting and important addition to the debate over the emotional effect that our cities and buildings have on us . . . . The Architecture of Happiness rightly tell us to trust our senses and personal experience."
—The Wall Street Journal

"An elegant book . . . . Unusual [and] full of big ideas . . . Seldom has there been a more sensitive marriage of words and images."
—The New York Sun

Pantheon, 9780375424441, 336pp.
Publication Date: June 2, 2009
About the Author
ALAIN DE BOTTON is the author of three works of fiction and six works of nonfiction, including "How Proust Can Change Your Life, The Consolations of Philosophy," and "The Art of Travel." He lives in London, where he founded The School of Life.
or
Not Currently Available for Direct Purchase