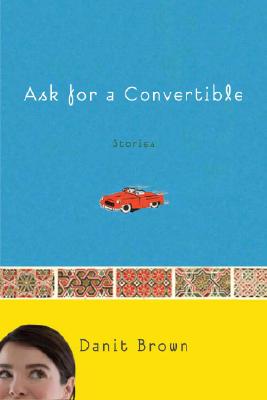 Ask for a Convertible (Hardcover)
Stories
Pantheon, 9780375424540, 320pp.
Publication Date: August 5, 2008
Other Editions of This Title:
Paperback (7/14/2009)
* Individual store prices may vary.
Description
Ask for a Convertible is a wonderfully assured debut that ponders what it means to be Israeli, to be American, or to be a little bit of both. In there connected stories, Danit Brown introduces Osnat Greenberg: a slightly fatalistic, darkly funny, and utterly winning heroine who is struggling to find her place in the world.

In the 1980s, Osnat moves with her American father and Israeli mother from Tel Aviv to Michigan. She's leaving behind security threats and a crazy grandmother, but entering a world where she seems doomed never to fit in. Her father hated absolutely everything about life in Israel; her mother hates absolutely everything about life in America.

Osnat's best friend and sort-of-boyfriend, Sanjay, Indian by birth, instructs her on the "arts" of assimilation; later, as Osnat moves into her twenties, a series of boyfriends all named Chris misguidedly attempt to instill her with holiday cheer. An Israeli soldier visiting the United States makes Osnat realize that it's time to face what she believes is her cowardly past. But it's her friend Harriet, an American who as a child practiced holding her breath just in case Nazis took over the Midwest, who somehow manages to show Osnat the meaning of home.

As the perspective shifts among the characters--spanning fifteen years, returning to Tel Aviv and then going back again to Michigan--Osnat tries (and often fails) to belong. Danit Brown gives is an irreverent portrait of a young woman for whom finding a foothold in the world is an obsession, a challenge, and a great adventure.
Praise For Ask for a Convertible: Stories…
Praise for Danit Brown's Ask for a Convertible:

"Deadpan doesn't come much better than this. Brown's outsider-looking-in observations kill, while her characters' emotional rootlessness infuses even dryly delivered punch lines with poignancy." –The Washington Post

"Absorbing. . . . These sensitive (and often hilarious) stories ask what it means to be loyal to a place, and to a people, and what it says about you if you choose to defect. . . . Brown is wonderfully attuned to what's special and strange about this particular pool of immigrants." –The L Magazine (New York)

"A good read. Its characters are vivid and unforgettable. It's a search for identity and a search for home. It's about what we're willing to sacrifice for those we love. . . . It's a story we all can relate to, Jewish or not." –Palm Beach Post

"Ask for a Convertible is all its title suggests–a dizzyingly delicious read, with the wind flying past and the road ahead promising a life of possibility and change. . . . Everyone should read this book." –Hannah Tinti, author of Animal Crackers

"An unusual and striking book. . . . There is never a dearth of humor in this lively collection of fascinating stories." –Deseret News (Salt Lake City)

"Thoughtful, provocative, funny and self-assured, Danit Brown is a welcome new voice on the Jewish literary scene." –Chicago Jewish Star

"It is to be hoped that we will hear more from this promising author who has the potential to bring slightly off-beat characters to life and who understands something about family dynamics and (at least one small slice of) the American Jewish experience." –Jewish Book World

"Lighthearted. . . . A journey full of cultural clashes and plenty of laughs." –Star Magazine

"Anyone interested in the question of Jewish identity . . . will eat up Ask for a Convertible. . . . Brown's unique take on Jewish-American life has already drawn comparisons with the early work of Philip Roth . . . as she deals with similar cross-cultural tensions and idiosyncrasies in her work. . . . Brown's stories are about the search for individual and collective identity, or rather, how they both work together and compete against each other. It's in that struggle that the author finds her most profound themes with which readers will most identify." –Berkshire Jewish Voice

"At once openhearted and close-minded, Brown's characters often offend one another when they collide, and their stories capture the awkwardness of both coming to America and coming-of-age." –Publishers Weekly

"Keen on the Jewish scene in Israel and America, Brown is a writer to savor. . . . [She] deftly portrays characters and situations that involve struggling with borders: coming of age, romantic entanglements, family feuds and frustrations, religion, secularism, and defining home." –Library Journal

"An uncomfortably funny but never boring debut." –Kirkus Reviews

"Both funny and poignant, these stories communicate a subtle wisdom about what is important in life." –School Library Journal

"Ask for a Convertible has the hilarious wit of Lorrie Moore, the poignant weight of assimilation as seen in Gish Jen, and will undoubtedly – and in all of the best ways – recall the early work of Philip Roth. However Danit Brown pushes into new terrain and claims this hybrid land as her own. These intimate stories pack a powerful punch while introducing an important new voice in the ongoing literary discussion about what makes us who we are. A brilliant debut!" –Julianna Baggott, author of Which Brings Me to You (co-written with Steve Almond) and Girl Talk

"Danit Brown's stories are whole worlds, so alive with detail that reading them is a visceral, sensory experience. When you dive into this book you just don't want to stop reading to come up for air." –Thisbe Nissen, author of The Good People of New York and Osprey Island
or
Not Currently Available for Direct Purchase