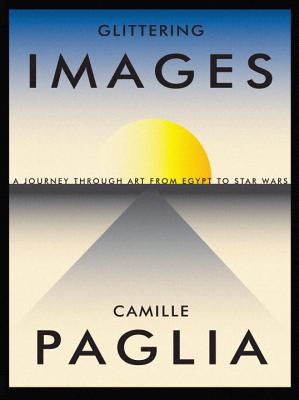 Glittering Images
A Journey Through Art from Egypt to Star Wars
Hardcover

* Individual store prices may vary.
Other Editions of This Title:
Paperback (8/13/2013)
Description
WIth full-color illustrations throughout

From the best-selling author of Sexual Personae and Break, Blow, Burn and one of our most acclaimed cultural critics, here is an enthralling journey through Western art's defining moments, from the ancient Egyptian tomb of Queen Nefertari to George Lucas's volcano planet duel in Revenge of the Sith.

America's premier intellectual provocateur returns to the subject that brought her fame, the great themes of Western art. Passionately argued, brilliantly written, and filled with Paglia's trademark audacity, Glittering Images takes us on a tour through more than two dozen seminal images, some famous and some obscure or unknown—paintings, sculptures, architectural styles, performance pieces, and digital art that have defined and transformed our visual world. She combines close analysis with background information that situates each artist and image within its historical context—from the stone idols of the Cyclades to an elegant French rococo interior to Jackson Pollock's abstract Green Silver to Renée Cox's daring performance piece Chillin' with Liberty. And in a stunning conclusion, she declares that the avant-garde tradition is dead and that digital pioneer George Lucas is the world's greatest living artist. Written with energy, erudition, and wit, Glittering Images is destined to change the way we think about our high-tech visual environment.
Praise For Glittering Images: A Journey Through Art from Egypt to Star Wars…
"Daring…. Beautifully written and rich in details…. A unique mixture of political candor, professional critique, gossipy details, and the author's trademark inflammatory ideas…. Supports her assertion that the definition of art is already changed. It begs the question, 'Has anyone else in the art world noticed?'…. Extols the value and enduring legacy of Star Wars as it stands at the forefront of a new definition—a new era—in fine art." —iFanGirlBlog

"[Paglia is] an art-for-art's-sake worshiper of art and literature whose close readings, influenced by Walter Pater and Sigmund Freud, are pyrotechnic and passionate.... Particularly pleasing are Paglia's sketches on Donatello's still-shocking 15th century sculpture of Mary Magdalene as a starved ascetic, and on Titian's voluptuously sensual 'Venus With a Mirror' (c. 1555), two nearly diametrically opposed works that Paglia makes speak to each other by noting curiously androgynous elements in both figures…. The relentlessly austere Caspar David Friedrich's 'The Sea of Ice' (1823-24)...is juxtaposed in surprising fashion by the following image, Manet's 1879 'At the Cafe,' a subtle study of ordinary Paris street life. The paintings, as well as the artists and their eras, thereby achieve a collage-like mutual illumination."
—San Francisco Chronicle
 
"Paglia's scintillating prose, acute analysis and perceptive assessments of five millennia of art history make her tour a joy to take, to argue about and to learn from…. A perceptive and enthusiastic guide on this journey to see and experience fully works of art from ancient Egypt to today."
—Shelf Awareness
 
"It is her prose, jargon-free, muscular, and fearlessly opinionated, that ought to grab readers of any age. Once pulled into the Grand Foyer for her tour through the centuries, the reader is in complete thrall to the masterpieces on view. Paglia opens with an essay about the murals of Nefertari's tomb in Egypt's Valley of the Queens, and right out of the gate—make that grave—her interdisciplinary command of history, archaeology, and even cinema is evident…. [Paglia has] an honesty and enthusiasm that, when wedded to a profound intellect, one can't put a price on."
—The Barnes & Noble Review

"The book's subtitle—'A Journey Through Art From Egypt to Star Wars'—highlights Ms. Paglia's impressive range and famously eclectic tastes. . . . Ms. Paglia chooses well, from works both celebrated and obscure. She is especially good at the difficult trick of providing context for the newcomer to art history without being tedious for a more experienced reader. She is no dreary docent. . . . She is also adept at helping readers to see the radical original impulse in now familiar art forms."
—The Wall Street Journal

"A magisterial, poetically composed, and masterly study of 29 great works of Western art. . . . Paglia writes rhapsodically of art's power . . . [she is] one of the most erudite public intellectuals in America."
—The Philadelphia Inquirer

"The ever-provocative Paglia returns with a survey of Western art, captured in 24 essays that move from Egyptian tombs to Titian's Venus with a Mirror to Eleanor Antin's conceptual art project 100 Boots. The provocative part? In the end, she proclaims that the avant-garde is dead and that George Lucas is our greatest living artist. This will get the smart folks talking."
—Library Journal

"[A] highly reflective and imaginative history of images in Western art. . . . Paglia writes with energetic lucidity, and her entries on the Laocoön and Donatello's Mary Magdalene are standouts in this absorbing volume. Both a valuable cultural critique and an elucidating history, Paglia's latest would suit the general reader, as well as those looking for an alternative approach to contemporary ways of seeing."
—Publishers Weekly
 
"Critic/provocateur Paglia applies to the visual arts the same close scrutiny she lavished on poetry in Break, Blow, Burn (2005). . . . An intelligently detailed examination of 29 works of art, ranging from a tomb painting of Egyptian Queen Nefertari to George Lucas' film Revenge of the Sith. . . . The author cogently locates individual pieces within a cultural continuum and eloquently spotlights the artistic qualities that make them unique. . . . Paglia gives a vivid sense of the sweep and scope of art history. The author loves pop art (Warhol's Marilyn Diptych), but sections on Eleanor Antin's 100 Boots and Walter De Maria's Lightning Field display a surprising fondness for conceptualism and minimalism as well. African-American artists get their due in essays on John Wesley Hardrick's sensitive portrait, Xenia Goodloe, and Renee Cox's witty Chillin' with Liberty. . . . Paglia is a wonderful popularizer of art history and art appreciation."
—Kirkus Reviews
 
"Paglia, an ardent and often controversial defender of the arts and creative freedom, argued for the value of poetry in Break, Blow, Burn (2005). She now presents an equally commanding case for reclaiming the visual arts as a necessary and nurturing cultural force in a time of alarmingly diminished support for arts education. Given our 'screen' habit, we are awash in a 'sea of images,' mostly commercial in origin, that threatens to drown our ability to focus and think critically. The best way to regain our visual acuity, Paglia believes, is to focus on paintings, sculpture, and the decorative arts within art's rich continuum. So this interdisciplinary firebrand and die-hard populist showcases 29 outstanding works, each representative of a certain style or period, beginning with a tomb painting of Queen Nefertari and working up to Andy Warhol's portraits of Marilyn Monroe. Paglia's succinct, lively, and illuminating essays combine aesthetics and social considerations ad she recalibrates our perception of, say, Renaissance artist Donatello's 'harsh and imposing' depiction of Mary Magdalene, or Jamaican performance artist Renee Cox's Chillin' with Liberty. The book's climax is Paglia's bound-to-be-inflammatory assertion that filmmaker George Lucas is 'the world's greatest artist.' Paglia's bold and rigorous, handsomely illustrated and welcoming art iconography will accomplish her mission to provoke, enlighten, and inspire.."
—Booklist, starred review
Pantheon, 9780375424601, 224pp.
Publication Date: October 16, 2012
About the Author
Camille Paglia is University Professor of Humanities and Media Studies at the University of the Arts in Philadelphia. She is the author of Break, Blow, Burn; Sexual Personae; Sex, Art, and American Culture; and Vamps & Tramps. She has also written The Birds, a study of Alfred Hitchcock.
or
Not Currently Available for Direct Purchase