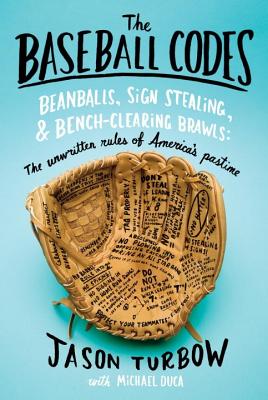 The Baseball Codes
Beanballs, Sign Stealing, and Bench-Clearing Brawls: The Unwritten Rules of America's Pastime
Hardcover

* Individual store prices may vary.
Description
Everyone knows that baseball is a game of intricate regulations, but it turns out to be even more complicated than we realize. What truly governs the Major League game is a set of unwritten rules, some of which are openly discussed (don't steal a base with a big lead late in the game), and some of which only a minority of players are even aware of (don't cross between the catcher and the pitcher on the way to the batter's box). In The Baseball Codes, old-timers and all-time greats share their insights into the game's most hallowed—and least known—traditions. For the learned and the casual baseball fan alike, the result is illuminating and thoroughly entertaining.
 
At the heart of this book are incredible and often hilarious stories involving national heroes (like Mickey Mantle and Willie Mays) and notorious headhunters (like Bob Gibson and Don Drysdale) in a century-long series of confrontations over respect, honor, and the soul of the game. With The Baseball Codes, we see for the first time the game as it's actually played, through the eyes of the players on the field.
 
With rollicking stories from the past and new perspectives on baseball's informal rulebook, The Baseball Codes is a must for every fan.
Praise For The Baseball Codes: Beanballs, Sign Stealing, and Bench-Clearing Brawls: The Unwritten Rules of America's Pastime…
"Delicious . . . Entertaining . . . The Baseball Codes reads like a lab report by a psychologist who has been observing hostile toddlers whack one another with plastic shovels in a sandbox."
—Bruce Weber, The New York Times Book Review

"A frankly incredible book—a history and analysis of baseball's insular culture of unwritten rules, protocols and superstitions, assembled over the course of ten years . . . I can say without hesitation that this is one of the all-time greats—a first-ballot Hall of Famer."
—Glenn McDonald, NPR
 
"If baseball players adhere to a series of informal doctrines, then consider Turbow the ultimate code breaker . . . Turbow pulls back the curtain and breaks through the game's shroud of secrecy to deliver a grand slam of a book."
—Mike Householder, Associated Press
 
"A remarkably well researched book, filled with intricate details of plays from the past 100 years."
—Larry Getlen, New York Post
 
"Turbow and Duca have filled a void with this entertaining, revealing survey of the varied, sometimes inscrutable unwritten rules that govern the way baseball is played by the pros."
—Booklist
 
"A highly entertaining read . . . A comprehensive, sometimes hilarious guide to perhaps a misunderstood aspect of our national pastime."
—Publishers Weekly 
Pantheon Books, 9780375424694, 304pp.
Publication Date: March 9, 2010
Book Videos
Coverage from NPR