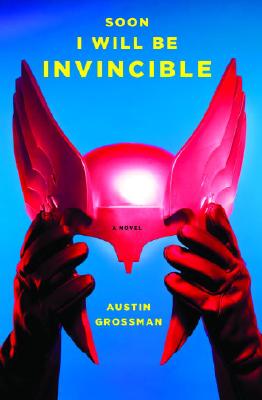 Soon I Will Be Invincible
Hardcover

* Individual store prices may vary.
Other Editions of This Title:
Digital Audiobook (6/4/2007)
Paperback (6/10/2008)
Compact Disc (6/5/2007)
Compact Disc (6/5/2007)
MP3 CD (6/5/2007)
CD-Audio (6/5/2007)
Description
Doctor Impossible—evil genius, diabolical scientist, wannabe world dominator—languishes in a federal detention facility. He's lost his freedom, his girlfriend, and his hidden island fortress.

Over the years he's tried to take over the world in every way imaginable: doomsday devices of all varieties (nuclear, thermonuclear, nanotechnological) and mass mind control. He's traveled backwards in time to change history, forward in time to escape it. He's commanded robot armies, insect armies, and dinosaur armies. Fungus army. Army of fish. Of rodents. Alien invasions. All failures. But not this time. This time it's going to be different...

Fatale is a rookie superhero on her first day with the Champions, the world's most famous superteam. She's a patchwork woman of skin and chrome, a gleaming technological marvel built to be the next generation of warfare. Filling the void left by a slain former member, we watch as Fatale joins a team struggling with a damaged past, having to come together in the face of unthinkable evil.

Soon I Will Be Invincible is a thrilling first novel; a fantastical adventure that gives new meaning to the notions of power, glory, responsibility, and (of course) good and evil.
Praise For Soon I Will Be Invincible…
"Austin Grossman has a superpower himself—it's called writing. This book is a new, winning, smart and funny way of interpreting our world. It's terrific." —Douglas Coupland, author of JPod and Generation X

"The realm of comic book heroes and villains gets a dose of realism in this whimsical debut from game design consultant Grossman.... However fantastical, the characters (including a 'genetic metahuman' and 'an elite fairy guard') are thoughtfully portrayed.... Grossman dabbles in a host of themes—power, greed, fame, the pitfalls of ego—in this engrossing page-turner, broadening the appeal of an already inviting scenario." —Publishers Weekly

"Distilling the motley spectrum of doomed super-villains from half a century of comics into one impressive anti-hero, Austin Grossman's raucously madcap debut novel, Soon I Will Be Invincible, races along like a roller coaster with its lug nuts loosened.... Light and adhesive as Spider-Man's web, Soon I Will Be Invincible is tailored for summer reading like a superhero's (or super-villain's) form-fitting costume." —Thane Tierney, Bookpage

"Riding the current wave of enthusiasm for superpowered mutants in film and fiction, Grossman's first novel peeks intimately inside the psyches of both superheroes and supervillains.... With remarkable ingenuity, [he] assembles an entire menagerie of superheroes and criminal masterminds completely from scratch. Costumed crime-fighter mavens naturally attracted to this latest rendition of superheroic derring-do may wind up itching to see it on the silver screen." —Booklist

"In a world where BlackBerry-carrying superheroes grace the cover of GQ, being a supervillain known as the "angriest dork in the world" isn't easy. A heartbreaking genius of staggering evil, Doctor Impossible avenges lost love, a lonely adolescence, and a plethora of foiled doomsday devices. (That fungus army seemed foolproof!) Every comic-book cliché in this witty, stunning debut is lovingly embraced, then turned inside out." —Steven Leckart, Wired
Pantheon, 9780375424861, 288pp.
Publication Date: June 5, 2007
About the Author
Austin Grossman is a video-game design consultant and a doctoral candidate in English literature at the University of California, Berkeley, where he specializes in Romantic and Victorian literature. He lives in Berkeley.
or
Not Currently Available for Direct Purchase