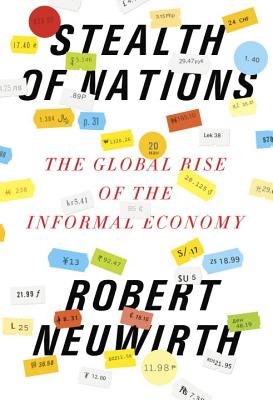 Stealth of Nations
The Global Rise of the Informal Economy
Hardcover

* Individual store prices may vary.
Other Editions of This Title:
Digital Audiobook (10/23/2011)
MP3 CD (10/24/2011)
Compact Disc (10/24/2011)
Paperback (10/2/2012)
MP3 CD (10/24/2011)
Compact Disc (10/24/2011)
Compact Disc (10/24/2011)
Description
• Thousands of Africans head to China each year to buy cell phones, auto parts, and other products that they will import to their home countries through a clandestine global back channel.
 
• Hundreds of Paraguayan merchants smuggle computers, electronics, and clothing across the border to Brazil.
 
• Scores of laid-off San Franciscans, working without any licenses, use Twitter to sell home-cooked foods.
 
• Dozens of major multinationals sell products through unregistered kiosks and street vendors around the world.
 
When we think of the informal economy, we tend to think of crime: prostitution, gun running, drug trafficking. Stealth of Nations opens up this underground realm, showing how the worldwide informal economy deals mostly in legal products and is, in fact, a ten-trillion-dollar industry, making it the second-largest economy in the world, after that of the United States.
 
Having penetrated this closed world and persuaded its inhabitants to open up to him, Robert Neuwirth makes clear that this informal method of transaction dates back as far as humans have existed and traded, that it provides essential services and crucial employment that fill the gaps in formal systems, and that this unregulated market works smoothly and effectively, with its own codes and unwritten rules.
 
Combining a vivid travelogue with a firm grasp on global economic strategy—along with a healthy dose of irreverence and skepticism toward conventional perceptions—Neuwirth gives us an eye-opening account of a world that is always operating around us, hidden in plain sight.
Praise For Stealth of Nations: The Global Rise of the Informal Economy…
"Stealth of Nations is the most exciting shopping trip I've ever been on. I thought I knew what 'the economy' is, but I had no idea until Neuwirth filled me in." —Barbara Ehrenreich, author of Nickel and Dimed

"Herein, an intrepid journalist examines the real world of wealth creation at the very bottom of the pyramid, where it matters most.  The rest of economics will have to adjust accordingly." —Stewart Brand, author of Whole Earth Discipline
 
 "We are just beginning to understand that today's advanced global economy rises along with a proliferation of informal economies. Nobody can document this better than the world-traveling journalist Robert Neuwirth. This is a must-read book." —Saskia Sassen, Robert S. Lynd Professor of Sociology, Columbia University, and author of A Sociology of Globalization
 
 "After reading this book you will realize that working in an office, a shop, or in a factory, earning a steady salary, paying taxes and having health insurance and a retirement account is an anomaly.  Most of the world's workers operate in the informal sector and in this fascinating book Robert Neuwirth reveals how 'The Stealth Economy' works and what does it take to survive in it." —Moisés Naím, author of Illicit: How Smugglers, Traffickers, and Copycats are Hijacking the Global Economy

"A vibrant picture of a growing sphere of trade that already employs half the workers of the world." —Kirkus Reviews
Pantheon, 9780375424892, 304pp.
Publication Date: October 18, 2011
About the Author
Robert Neuwirth is the author of "Shadow Cities: A Billion Squatters, a New Urban World." He has received a research and writing grant from the John D. & Catherine T. MacArthur Foundation, appears nationally and internationally as a speaker and on radio, and has written for "The New York Times, The Washington Post, Dwell, Fortune, The Nation, "and "Wired, "among many other publications. He lives in Brooklyn.
or
Not Currently Available for Direct Purchase