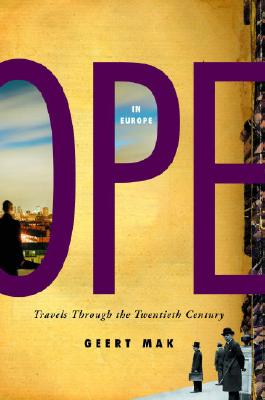 In Europe
Travels Through the Twentieth Century
Hardcover

* Individual store prices may vary.
Other Editions of This Title:
Paperback (6/10/2008)
Paperback (3/1/2008)
Description
Geert Mak spent the year of 1999 criss-crossing the continent, tracing the history of Europe from Verdun to Berlin, Saint Petersburg to Auschwitz, Kiev to Srebrenica. He set off in search of evidence and witnesses, looking to define the condition of Europe at the verge of a new millennium. The result is mesmerizing: Mak's rare double talent as a sharp-eyed journalist and a hugely imaginative historian makes In Europe a dazzling account of that journey, full of diaries, newspaper reports and memoirs, and the voices of prominent figures and unknown players; from the grandson of Kaiser Wilhelm II to Adrinana Warno in Poland, with her job at the gates of the camp at Birkenau.

But Mak is above all an observer. He describes what he sees at places that have become Europe's wellsprings of memory, where history is written into the landscape. At Ypres, he hears the blast of munitions from the Great War that are still detonated there twice a day. In Warsaw, he finds the point where the tram rails that led to the Jewish ghetto come to a dead end in a city park. And in an abandoned nursery school near Chernobyl, where tiny pairs of shoes still stand in neat rows, he is transported back to the moment time stood still in the dying days of the Soviet Union.

Mak combines the larger story of twentieth-century Europe with details that give it a face, a taste and a smell. His unique approach makes the reader an eyewitness to a half-forgotten past, full of unknown peculiarities, sudden insights and touching encounters. In Europe is a masterpiece; it reads like the epic novel of Europe's most extraordinary century.
Praise For In Europe: Travels Through the Twentieth Century…
"Twentieth-century history is sober business, yet In Europe is practically effervescent in its evocation of detail. Mak doesn't write about Auschwitz and the ethnically cleansed alleys of Srebrenica so much as personally lead you among the concrete walls of these places that have shaped our self-awareness."
--Russell Shorto, author of The Island at the Center of the World

"Fascinating, informative, sometimes exhilarating, often painful, and quite impossible to summarise... A wonderfully rich journey through time and space, packed with vivid images, enlivened by conversations and stories."
--The Literary Review

"A people's history that does not shy away from the bigger questions posed in the wake of two world wars... The real achievement here is not the unearthing of these nuggets of anecdotal history but the skill with which Mak sets them in context."
--The Herald

"A formidable achievement."
--Jan Morris

"Geert Mak is Europe's portrait-painter, its impressionist, its poet-musician, the reader of its people's minds. Pray, read his book!"
--John Lucas, author of June 1941: Hitler and Stalin

"It's impossible not to get drawn into this book.
--The Sunday Telegraph
Pantheon, 9780375424953, 896pp.
Publication Date: August 7, 2007
or
Not Currently Available for Direct Purchase