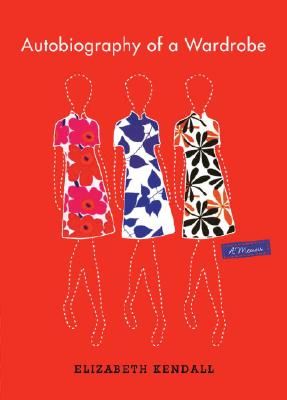 Autobiography of a Wardrobe (Hardcover)
Pantheon, 9780375425004, 240pp.
Publication Date: April 29, 2008
Other Editions of This Title:
Paperback (5/5/2009)
* Individual store prices may vary.
Description
The wholly original story of a woman's life told from her wardrobe's point of view, in the wardrobe's own savvy, vibrant voice--a feat of the imagination as emotionally subtle and stirring as it is dazzlingly particular.

We first meet B., the wardrobe's owner, as a child in the buttoned-up Midwest of the 1950s, when "a vision of a saddle shoe" comes into her head and she discovers the urgency of all clothing dreams. We follow B. through her awkward, pudgy stage ("Here I must write about the stomach"); the indignity of camp shorts; her "adult figure arriv[ing] suddenly in 1963." The 1960s bring even bigger changes when B. goes off to Harvard, discards her girdle, and discovers... Marimekko! Miniskirts! Bell-bottoms!

Elizabeth Kendall's native intelligence and gift for storytelling entrance the reader, as the wardrobe charts the most important events in B.'s life and the outfits she assembles for each. We watch as B. copes with the untimely death of her mother; makes a go of magazine work--and glamour--in New York; and, after the inevitable false starts and wrong moves (including, of course, in her choice of clothing), finally comes into her own.

Part memoir, part fashion and cultural history of the last five decades, Autobiography of a Wardrobe is an exploration of the clothes each generation has embraced, the smallest details in which we are able to seek comfort and meaning, and the places and things--sometimes odd or unexpected--in which we store our memories.
Praise For Autobiography of a Wardrobe…
"This is a book to devour with great pleasure, as it brings back our own reactions to youth's wardrobe: saddle shoe lust and, for me, in Brooklyn rather than in the Midwest, a decade earlier, bobby socks and penny loafers. But the passion is the same in every period: no one has gotten at the intense importance of these issues in the feminine bildungsroman. Kendall has given us something wonderful."
--Linda Nochlin, author of Bather, Bodies, Beauty

"A writer of deep and delicious gifts, Elizabeth Kendall now gives us a subtle, original riff on the clothes we wear. Clothes may not make the man or woman, but they certainly make this book. It is at once whimsical and profound."
--Catharine Stimpson, University Professor and Dean of the Graduate School of Arts and Science, New York University
or
Not Currently Available for Direct Purchase