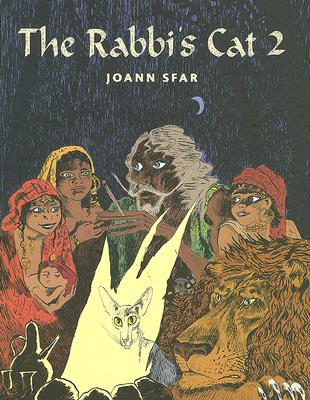 The Rabbi's Cat 2 (Pantheon Graphic Library)
Hardcover

* Individual store prices may vary.
Description
Joann Sfar's beloved, humorous, and wise talking cat is back for more beautifully illustrated adventures in Algiers and across Africa in the 1930s. While the rabbi is away, his cat tags along with Malka of the Lions (the rabbi's enigmatic cousin), who roams the desert with his ferocious-on-demand lion. Some believe Malka to be a pious Jew, others think he's a shrewd womanizer, but the cat will be the one to discover the surprising truth.

Back in Algiers, the rabbi's daughter, Zlabya, and her new husband fill the house with their fighting, while the city around them fills with a rising tide of anti-Semitism. On a whim, the rabbi's cat, the rabbi, a sheikh (also a cousin of the rabbi), and a very misplaced Russian painter set out on a fantastic journey (even encountering a young reporter named Tintin in the Congo) in search of an African Jerusalem. It turns out to be very fortuitous that the rabbi's cat is not just a talking cat, but a multilingual talking cat.
Praise For The Rabbi's Cat 2 (Pantheon Graphic Library)…
"Sfar's words and pictures mingle in a dance both sacred and skeptical, perfectly graceful and clumsily human. I'm so grateful that his brilliance has finally been brought to America."
--Craig Thompson, author of Blankets

"He draws faster than his shadow. He comes up with new stories as if he were drinking a glass of water. He talks more than anyone I've ever known. He's extremely talented, extremely funny, extremely smart. I guess this is the description of a genius. And I don't say such things because he's my friend. Joann Sfar is not a rabbi, but he describes better than anyone the religious dilemma with a tenderness, intelligence, and humor. The Rabbi's Cat is a book that everybody should read."
--Marjane Satrapi, author of Perspolis

"[The Rabbi's Cat] is rich in historic and cultural detail and filled with great stories."
--The Washington Post

"As fanciful as Mark Haddon's The Curious Incident of the Dog in the Night-Time, a whole lot shorter than The Amazing Adventures of Kavalier & Clay, and a good deal more Jewish than Marjane Satrapi's Persepolis, Joann Sfar's graphic novel is hilarious, poignant, and wise. And now that I'm done reading it for the first time, I'm going to read it again."
--Adam Langer, author of Crossing California

"An affecting, fraught, and--yes--sometimes hilarious tour de force about the complexities of living faithfully in a godless world."
--The Boston Globe

Pantheon, 9780375425073, 144pp.
Publication Date: April 1, 2008
About the Author
Joann Sfar was awarded the prestigious Jury Prize at Angouleme for the first volume of The Rabbi's Cat. He has drawn more than one hundred comic books for children and adults, including Little Vampire Goes to School (a New York Times best seller) and Little Vampire Does Kung Fu! (nominated for an Eisner Award). He lives in Paris with his wife, two children, and the model for The Rabbi's Cat.

Alexis Siegel has over fifteen years' experience in various fields of translation, and his interest in adapting graphic novels was sparked by one of Sfar's works—the whimsical children's story Little Vampire Goes to School, a New York Times bestseller first published by Simon & Schuster in 2003 and reissued in Spring 2008 by First Second Books. In addition to The Rabbi's Cat , several works from Sfar's prolific production have kept him both delighted and busy, among them Klezmer: Tales of the Wild East , Vampire Loves , and The Professor's Daughter . He has also translated Deogratias: A Tale of Rwanda, by Jean-Philippe Stassen , and, into French, Gene Luen Yang's American Born Chinese.
or
Not Currently Available for Direct Purchase