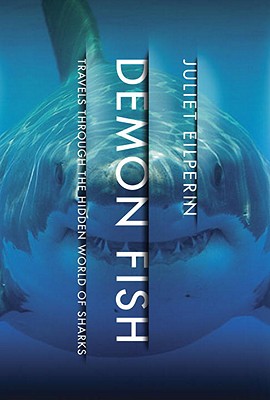 Demon Fish (Hardcover)
Travels Through the Hidden World of Sharks
Pantheon, 9780375425127, 320pp.
Publication Date: June 14, 2011
Other Editions of This Title:
Digital Audiobook (6/13/2011)
Paperback (7/24/2012)
Hardcover (1/1/2012)
* Individual store prices may vary.
Description
A group of traders huddles around a pile of dried shark fins on a gleaming white floor in Hong Kong. A Papua New Guinean elder shoves off in his hand-carved canoe, ready to summon a shark with ancient magic. A scientist finds a rare shark in Indonesia and forges a deal with villagers so it and other species can survive.

In this eye-opening adventure that spans the globe, Juliet Eilperin investigates the fascinating ways different individuals and cultures relate to the ocean's top predator. Along the way, she reminds us why, after millions of years, sharks remain among nature's most awe-inspiring creatures.

From Belize to South Africa, from Shanghai to Bimini, we see that sharks are still the object of an obsession that may eventually lead to their extinction. This is why movie stars and professional athletes go shark hunting in Miami and why shark's fin soup remains a coveted status symbol in China. Yet we also see glimpses of how people and sharks can exist alongside one another: surfers tolerating their presence off Cape Town and ecotourists swimming with sharks that locals in the Yucatán no longer have to hunt.

With a reporter's instinct for a good story and a scientist's curiosity, Eilperin offers us an up-close understanding of these extraordinary, mysterious creatures in the most entertaining and illuminating shark encounter you're likely to find outside a steel cage.
About the Author
Juliet Eilperin is the national environmental reporter for The Washington Post, where she writes about science, policy, and politics in areas ranging from climate change to oceans. A graduate of Princeton University, she lives with her family in Washington, D.C.
Praise For Demon Fish: Travels Through the Hidden World of Sharks…
"For this inclusive and important book, Eilperin traveled around the world to find people who study, fish for, dive with, venerate, or have been attacked by sharks . . . . [she] discusses many others who have brought sharks into human consciousness—Jules Verne, Edgar Allen Poe, Ernest Hemingway, and Jacques Cousteau; to this list, we must now add Eilperin herself."
—Richard Ellis, The American Scholar
 
"More books probably have been written about sharks than about any other creatures that live in the sea, so when I opened this one I was skeptical: What could it possibly add? A great deal, it turns out . . . Eilperin circles the world in pursuit of sharks and the people who love and hate them . . . whether they are killers or protectors, she tells their stories with fairness and understanding. I forgot the time as I immersed myself in the world of sharks. Whether you've never read a book about sharks or have a shelf full of them, this is a book for you."
—Callum Roberts, The Washington Post
 
"Eilperin investigates the greatest threats to sharks: the shark fin trade and the ecological and economic forces affecting shark populations . . . The book is certainly timely. And Demon Fish does the subject justice."
—David McGuire, San Francisco Chronicle
 
"Poised to be one of the summer's most compelling beach reads."
—Rachel Syme, NPR.org
 
"In this wide-ranging natural history of shark-human relations, the author recounts frank interviews with an entertaining cast of scientists, fishermen, wholesalers, chefs, and eco-tour operators, all of whom have a stake in the survival of the oceans' top predators. She also gets into the water with the sharks. For readers who like passionate investigative reporting."
—Rick Roche, Booklist
 
"In this fascinating and meticulously reported book, Juliet Eilperin crisscrosses the globe, on the trail of one of the most mysterious creatures. She illuminates not only the hidden nature of the seas, but also the societies whose survival depend on them."
—David Grann, author of The Lost City of Z
 
"Hate, fear, envy, awe, worship. Of the many shark books, precious few explore the human-shark relationship. And none do with such style as Juliet Eilperin does in this fact-packed, fast-paced narrative. This is the shark book for the person who wants to understand both what sharks are, and what sharks mean. Bite into it."
—Carl Safina, author of Song for the Blue Ocean and The View From Lazy Point; A Natural Year in an Unnatural World
Book Videos
Coverage from NPR
or
Not Currently Available for Direct Purchase