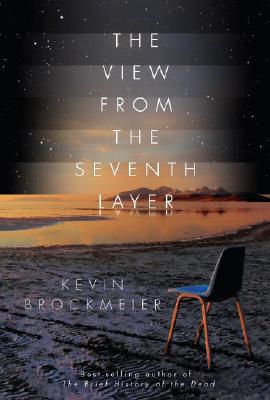 The View from the Seventh Layer
Hardcover

* Individual store prices may vary.
Other Editions of This Title:
Paperback (3/10/2009)
Description
Kevin Brockmeier--award -winning author of The Brief History of the Dead--has been widely praised for the richness of his imagination, the lyrical grace and playfulness of his language, and the empathic emotional complexity of his storytelling. And this dazzling collection once again affirms his place as one of the most creative and compassionate writers of his generation.

In the haunting title story, a young, asocial woman remembers the oddly honest things she wrote in her high school classmates' yearbooks and contemplates her scarred life, imagining an escape with an apparition she calls the Entity. In "Father John Melby and the Ghost of Amy Elizabeth," a formerly dull and turgid pastor is touched by a spirit that turns his sermons into crowd-pleasers--that is, until he discovers his inspiration is a little less than divine. "The Human Soul as a Rube Goldberg Device" is a gorgeous homage to the classic, young readers' choose-your-own-adventure novels. But this one is for grown-ups who can navigate through imagery and dead ends, and toward a resolution that only Kevin Brockmeier could have invented. From the fantastical to the concrete, the range of this collection is breathtaking. It moves fluidly, finding beauty in the quiet, often overlooked corners of the world.

By turns daring and moving, The View from the Seventh Layer is crafted with the remarkable voice and vision that have become hallmarks of Brockmeier's acclaimed fiction.
Praise For The View from the Seventh Layer…
"Kevin Brockmeier's writing has a light, magical quality that makes it a joy to read. Playful and uninhibited, imaginative and gentle, he's an American Italo Calvino."
--Lydia Millet, author of Oh Pure and Radiant Heart

"Brockmeier is one of my very favorite writers. What amazes me most about him isn't his daunting technical chops or his Millhauser-sized imagination, but that in his finest moments he combines these strengths with a deeper sense of the joys and sorrows of life. These stories are wise and touching, not merely full of delightful surprises but full of heart."
--Stewart O'Nan, author of Last Night at the Lobster

"These are beautiful and ethereal stories by an unsettling writer. Brockmeier is a major talent."
--Kevin Baker, author of Strivers Row

"Nobody has ever written stories like this. Who else could transpose Chekov into outer space, write a Choose Your Own Adventure story for the human soul, or tell the story of a man's life through the twittering chorus of his parakeets? Each of these stories contains a sentence that will blast open the walled-off regions of your heart like dynamite."
--Karen Russell, author of St. Lucy's Home for Girls Raised by Wolves

"I love Kevin Brockmeier's work, not only for its daring innovation and its boundary-defying marriage of the real and the fantastic, but also because of the deep feeling and compassion he brings to the lives of his varies characters. He is one of the best short story writers in America."
--Dan Chaon, author of Among the Missing and You Remind Me of Me

"I am totally enthralled, mesmerized, and jealous of The View from the Seventh Layer. These curious, fragile worlds drew me in like few stories published today. This collection's an instant classic."
--George Singleton, author of Novel and Drowning in Gruel
Pantheon, 9780375425301, 288pp.
Publication Date: March 18, 2008
or
Not Currently Available for Direct Purchase