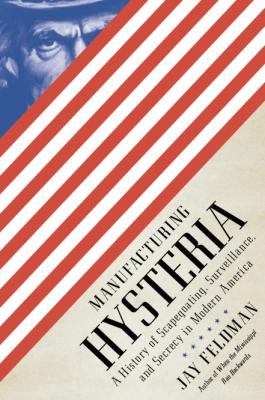 Manufacturing Hysteria (Hardcover)
A History of Scapegoating, Surveillance, and Secrecy in Modern America
Pantheon, 9780375425349, 400pp.
Publication Date: August 23, 2011
Other Editions of This Title:
Paperback (11/13/2012)
* Individual store prices may vary.
Description
A vital, engaging, and sometimes troubling story of modern America's struggle to live up to its ideals.
 
In this ambitious and wide-ranging history, Jay Feldman takes us from the run-up to World War I and its anti-German hysteria through the September 11 attacks and Arizona's current anti-immigration movement. What we see is a striking pattern of elected officials and private citizens alike using the American people's fears and prejudices to isolate minorities (ethnic, racial, political, religious, or sexual), silence dissent, and stem the growth of civil rights and liberties.
 
Whether it's the post–World War I persecution of radicals; the Depression-era deportations of Mexican immigrants and Mexican-Americans; the World War II internment of 112,000 ethnic Japanese along with thousands of German and Italian aliens; the Cold War campaigns against Communists, gays, and civil-rights activists; or the Vietnam-era COINTELPRO operations, we see how economic, military, and political crises have been used to curtail the rights of supposedly subversive minorities.
 
Much of the story can be laid at the feet of J. Edgar Hoover, but Feldman goes deeper to show how these tendencies have been part of a continuous vein that runs through American life. Rather than treating this history as a series of discrete moments, Feldman considers the entire programmatic sweep on a scale no one has yet approached. In doing so, he gives us a potent reminder of how, even in America, democracy and civil liberties are never guaranteed.
About the Author
Jay Feldman is also the author of the critically acclaimed "When the Mississippi Ran Backwards." He is a widely published freelance writer whose articles have appeared in "Smithsonian, Newsweek, Sports Illustrated, Gourmet, The New York Times," and many other national, regional, and local publications. He has written for television and the stage, and is the author of the novel "Suitcase Sefton and the American Dream." His Web site is www.jfeldman.com.
Praise For Manufacturing Hysteria: A History of Scapegoating, Surveillance, and Secrecy in Modern America…
 
"A cautionary, liberalizing history – and a book that serves as a philosophical call to arms."
—Carlo Wolff, Christian Science Monitor
 
"A chilling overview of how American political culture has generated domestic enemies to justify massive infringements of rights."
—Michael S. Roth, San Francisco Chronicle

"Feldman is rather obviously a gentleman of the left, but that doesn't unduly color his reportage or analysis . . . It is useful to have the entire history outlined in a single volume, for as more recent events have made plain, the susceptibility of the American populace to appeals based on fear and prejudice has not been eradicated."
—Jonathan Yardley, The Washington Post 
 
"An alternate history rife with violence and class oppression, presented with rigor and detail . . . Feldman is an attentive historian, unearthing many disturbing, forgotten examples of official malfeasance."
—Kirkus Reviews
 
"Feldman's compact history . . . charts the federal government's 'all out assault on dissent, with a three-pronged attack of legislation, propaganda and surveillance' from the early 20th century on . . . . Feldman ably sketches out instances of the trampling of [our] constitutional rights . . . and offers especially fine analyses of the McCarthy era . . . . Feldman's history offers a sharply revisionist view of 20th-century America that eschews triumphalism."
—Publishers Weekly

"Jay Feldman's highly readable account of the long, sad story of civil liberties in America is as close to entertaining as such a history can be. He reminds us that the protections of the Bill of Rights are always available to us except when we have dire need of them."
—Nicholas von Hoffman, author of Radical: A Portrait of Saul Alinsky
or
Not Currently Available for Direct Purchase