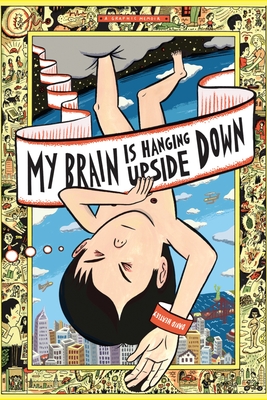 My Brain is Hanging Upside Down (Pantheon Graphic Library)
Hardcover

* Individual store prices may vary.
Description
One of the most promising young talents in cartooning makes his debut with a dazzling collection—part freakish dreamlife, part quirk-o-rama autobiography, all genius.

Long a fixture in comics anthologies, David Heatley's deceptively crude, wickedly observant drawings have begun showing up on the New York Times op-ed pages and the cover of the New Yorker, introducing him to a vast new audience, Now, in My Brain Is Hanging Upside Down (title courtesy of the Ramones song), we are treated to the full range of Heatley's remarkable, wildly unique voice and vision.

My Brain Is Hanging Upside Down is Heatley's life story told in six different but connected narrative threads. "Sex History" describes every sexual encounter dating back to kindergarten, with details that would make a therapist blush. "Black History" is an unflinchingly honest meditation on his own racism. "Portrait of My Mom" and "Portrait of My Dad" are beautifully paced vignettes, skewering and celebrating his lovably dysfunctional parents. "Family History" tells the story of his family from his great-great-grandparents' lives and closes with the birth of his own children. Woven in and around the larger pieces are "dream comics" that expand on the same themes with a baffling unconscious logic. Every inch of My Brain Is Hanging Upside Down is filled with visceral art and emotionally resonant storytelling at once stunning, truthful, and uncomfortably hilarious.
Praise For My Brain is Hanging Upside Down (Pantheon Graphic Library)…
"Riveting. . . . A beautifully unsettling mosaic."
—The New York Times Book Review

"Takes readers deep into the uncomfortable psychological undercurrents of everyday American life. . . . David Heatley is a double threat with a pen: both words and drawings are adventures in style."
—The Millions
 
"Utterly mesmerizing. . . . Impressive not just because it's funny and entertaining in an unexpected way, but because of the warmth and sweetness Heatley manages to convey in between the difficult moments. It's not pretty or safe or easy, but like life itself, it's worth the effort."
—The Irish Times
 
"Heatley is one of the most promising cartoonists of his generation. His work, notable for its disarming frankness, is always charming and filled with big-hearted enthusiasm for its chosen form."
—Daniel Clowes, author of Patience
Pantheon, 9780375425394, 128pp.
Publication Date: September 30, 2008
About the Author
David Heatley played the Baby Jesus at a Christmas pageant in 1974, months after he was born. A few years later, his family moved to Teaneck, NJ, where they became disenchanted with Catholicism
and joined an Episcopal church which might have had the worse liturgical music in the country. Heatley was confirmed at the age of 13 and stopped going to church the following year. After a decade-and-a-half of self-destructive behavior, he had a spiritual awakening while visiting California in 2001—about which, more later. Heatley now lives in Jackson Heights, NY, with his wife Rebecca Gopoian (an agnostic, Jewish-Armenian poet), and their two awesome children. This is his first book. Go easy on him.