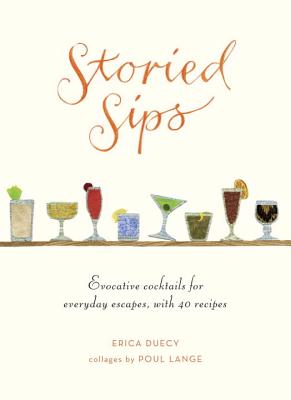 Storied Sips (Hardcover)
Evocative Cocktails for Everyday Escapes, with 40 Recipes
Random House Reference Publishing, 9780375426216, 208pp.
Publication Date: October 8, 2013
* Individual store prices may vary.
Description
Take a trip in a sip, a journey through time and place via the cocktail glass. The libations in this intoxicating collection span some 200 years, from Europe to the Far East, and they're the drinks with the best tales to tell. Because--without a backstory--a cocktail is nothing more than spirits and mixers. But spike that drink with an anecdote about the people, places, and circumstances that influenced its creation, and imbibers are instantly transported. Step into a British officer's club in 1920s Burma to try the Pegu Club, disembark in colonial Bermuda to sample the original Dark & Stormy, or join F. Scott Fitzgerald and Cole Porter at The Ritz Hotel in Paris for a Royal Highball, among the many spirited adventures between these covers.
The book itself is like a classic cocktail, with its iconic, vintage appeal. Mixed media illustrations by award-winning Danish artist Poul Lange feature vintage bottle labels, postcards, and magazine images. The illustrations are matched with simple recipes and deeply researched backstories for a new look at the world's most iconic cocktails.
More than a sum of its parts, " Storied Sips" is a book about living the good life, treating oneself to a dash of civilized escapism at the end of a busy day. Truly, there's nothing like a cocktail to strip away the dullness of the mundane, gilding an evening with a heightened glow, or adding cultured flair to a get-together with friends. Organized from light-bodied quenchers to rich, complex warmers, Storied Sips makes it easy to find cocktail inspiration any time of the year.
REVIEWS
FoodRepublic.com says: Author Erica Duecy chronicles 200 years of tending bar and the resulting book of tales are a must-read for any cocktail aficionado. " "
Like many other drink books, this one has cocktails along with their stories and recipes. Yet unlike others, this tiny book and its alluring collage-based illustrations is able to transport you to another time, a different era. In just a page or two the writer paints vivid pictures that allow you to hear the music of that moment, smell the smoke in that bar she's speaking of. It's a little magical. - Maureen Petrosky, "www.thekitchn.com
"
The Village Voice quips: Other than luxury real estate catalogs that stir-up serious home-envy, I can t recall reading another book that so made me want to immediately sell my cozy, charming apartment and buy a damn house. Why? I need kitchen cabinet space to collect the vintage barware and vessels in which the drinks in this book deserve to be served. Duecy, a first time author and deputy editor of Fodor's Travel website, recaptures the glamour of classic cocktails by succinctly sharing the exotic, historical origin of each drink, seducing you to immediately take stock of your liquor cabinet and make a grocery list of what's missing.
About the Author
Erica Duecy is an award-winning writer and editor specializing in Wine & Spirits and Travel. By day, she runs the Fodor s Travel website as Deputy Editor. At night, Erica writes about cocktails at StoriedSips.com, and tastes wines and tests cocktail recipes for the luxury alpine travel magazine "SNOW "(Bonnier), where she was Wine & Spirits Editor for the past six years. For "SNOW," Erica has written wine and spirit features ranging from the new generation of Wild West whiskeys to extreme winemaking and skiing in New Zealand, as well documenting hot apres-ski cocktail trends around the globe.

Erica is a long-time judge for the James Beard Journalism Awards, and holds an Advanced Certificate from the London-based Wine & Spirits Education Trust (WSET). She has written for the "New York Times," "Food & Wine," and numerous other publications, and often speaks about cocktail history at events, including Tales of the Cocktail and the Manhattan Cocktail Classic. For book news, events, and updates, visit StoriedSips.com."
or
Not Currently Available for Direct Purchase