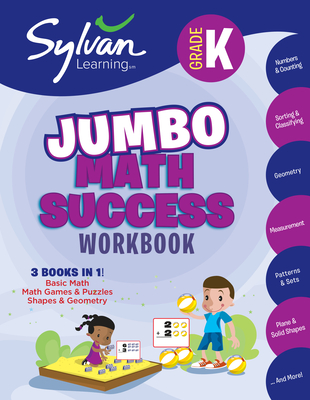 Kindergarten Super Math Success: Activities, Exercises, and Tips to Help You Catch Up, Keep Up, and Get Ahead (Paperback)
Activities, Exercises, and Tips to Help You Catch Up, Keep Up, and Get Ahead
Sylvan Learning Publishing, 9780375430480, 320pp.
Publication Date: January 24, 2012
Description
**3 BOOKS IN 1 ** Building a strong foundation in basic math is essential as kindergarteners prepare to advance to more difficult math concepts. The activities in this 3-in-1 Super Workbook are designed to help your student become familiar with numbers and counting, patterns, shape recognition, measurement, and more. They will help your child catch up, keep up, and get ahead--and best of all, to have lots of fun doing it Here are some of the great features you'll find inside: BASIC MATH
Pond Crossing
To help the frog jump across the pond, children follow a path of numbers, reinforcing number sequence. MATH GAMES & PUZZLES
Picking Pairs
Drawing lines to connect objects that belong together, like a paintbrush and watercolor set, pail and shovel, or animals with their homes, sharpens sorting skills. SHAPES & GEOMETRY
Off the Wall
By matching framed pictures to faded shapes where they used to hang on a wall, children reinforce their knowledge of shapes. Give your child's confidence a boost with Kindergarten Super Math Success
About the Author
Sylvan Learning is the premier provider of tutoring services for grades pre-K to 12 in North America. With over 850 locations in the United States and Canada, Sylvan provides individualized tutoring services, both in centers and online, in subjects including math, language arts, writing, study skills, and more.Sylvan's proven process and personalized methods have helped more than two million students unlock their academic potential. With products based on solid and scientific research, Sylvan is committed to both quality education and to helping children discover a love of learning!
Advertisement