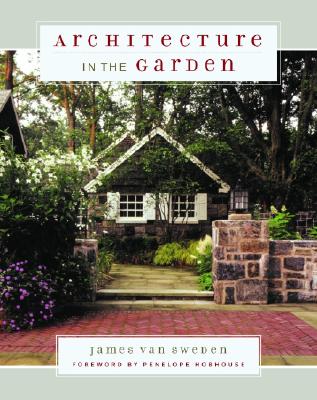 Architecture in the Garden
Hardcover

* Individual store prices may vary.
Description
The elements of garden architecture—paths, walls, gates, fences, terraces, sheds, lighting, furniture, waterworks, and art—together form the backbone of any well-designed garden. In this beautifully illustrated and accessible book, legendary landscape architect James van Sweden explains how to design and build a garden like a professional. He leads his readers on a tour through some of his most exquisitely designed gardens—in the country, in the city, in the suburbs, and by the shore. "When it comes to planning a comfortable and rewarding garden," van Sweden writes in his Introduction, "the challenges that confront the owner of an estate or a weekend cottage are often substantially the same. The principles and techniques used for organizing a large site work equally well in a more modest setting."

Each case study highlights a particular architectural element, breaking it down into practical ideas that any gardener can apply to his or her own garden or yard. The book includes dozens of detailed schematic drawings that can be used to build many of the elements described by the author, along with an extensive, illustrated glossary. Architecture in the Garden is sure to inspire you with its many practical ideas on how to domesticate your landscape and design an outdoor space that suits your taste as well as your lifestyle.
Praise For Architecture in the Garden…
"Van Sweden has an intuitive gift for assessing a garden, but in this book he explains how this has been developed by a disciplined and logical thought process, in which everyone can share. All in all, garden designing is a dialogue between artifice and nature....As the book explains and beautifully illustrates, every garden needs an architectural background to hold the design together."
—from the Foreword by Penelope Hobhouse

"Architecture in the Garden provides a good read for anyone interested in what happens beneath and before the planting material of a garden. The author draws upon the breadth of his practical experience and his panorama of interests to provide a text, which is lively and informative and not too technical. The book is ideal for all students of garden and landscape design."
—John Brookes, author of The Garden Book and The Indoor Garden Book
Random House, 9780375501548, 288pp.
Publication Date: January 21, 2003
About the Author
Following training as an architect and landscape architect in the United States and the Netherlands, James van Sweden's early practice led to a 1977 partnership with landscape architect and horticulturist Wolfgang Oehme. A revolutionary garden style quickly emerged and continues to flourish.

Mr. van Sweden's designs draw attention first to dramatic spectacles of informal planting and then to the practical beauty of architectural "bones" that anchor his gardens to the ground. The garden's underlying architecture is the subject of this book.

By revealing the secrets of his unusual design approach, Mr. van Sweden's recent books, Gardening with Water and Gardening with Nature, have inspired professional and amateur gardeners alike. His first book, Bold Romantic Gardens, co-authored with Mr. Oehme, is also considered a classic in the field.

Mr. van Sweden is a Fellow of the American Society of Landscape Architects and recipient of many distinguished awards. His works are published widely in gardening books and periodicals, and he is a frequent guest on television and radio shows. He lives in Washington, D.C.
or
Not Currently Available for Direct Purchase