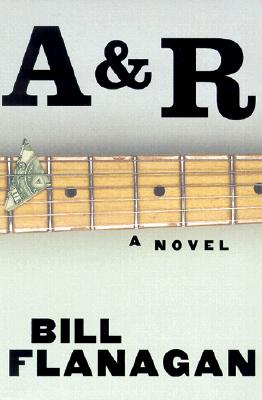 A&R (Hardcover)
Random House, 9780375502668, 352pp.
Publication Date: June 6, 2000
* Individual store prices may vary.
or
Not Currently Available for Direct Purchase
Description
The business of A&R (artists and repertoire) people at a record company is to sign new acts and nurture their careers, and lately no one in the industry has been hotter than Jim Cantone. Now the big time calls, and Jim accepts an offer to become head of A&R at industry giant WorldWide Records, founded and still run by the legendary maverick Wild Bill DeGaul. Little by little, though, it dawns on Jim that he has walked into a vipers' nest, and he must choose between picking up a dagger in a bloody palace coup against DeGaul or standing by him and losing everything.
        
Never before in fiction has the music business been so thoroughly nailed, but A&R is as much Julius Caesar as it is The Player: for all its great wit and dead-on insider texture, it's as wise about human nature as it is about one very dysfunctional industry.
Praise For A&R…
"Is there a better, funnier, truer novel about the contemporary music business? I don't think so. A&R is that extremely rare, satisfying thing-ferocious satire with a moral compass."
-- Kurt Andersen, author of Turn of the Century

"Bill Flanagan, a senior vice president of VH1 who has written extensively about the music industry, takes to fiction like an old hand. Fast-paced, funny, poignant, and, of course, sharply observed, this is first and foremost an entertainment. But Flanagan's music industry is additionally a legitimate and unsettling metaphor for the way we live now."
-- Kirkus Reviews

"This is a wonderfully written tale, with humour and heart. For record industry readers it's a trip to the funhouse hall of mirrors. If you secretly fear that you look like this, then you probably do. Flatter yourself at your peril. For civilians and other innocent bystanders it's a great day at the Roman Games."
-- Elvis Costello

"You begin with the things you love. You end up with the things you'll do. And one day you find yourself staring at a line on the ground, knowing that if you cross that line you'll never be the same again. A&R is the story of a music junkie's journey to that line, and Bill Flanagan tells it with all the color and authenticity that could only come from years spent on the musical midway. From the musicians, all their dreams and disappointments and the strings from which they dangle, to the men and women who jerk those strings, A&R is a straight-up, high fidelity ride."
-- Adam F. Duritz, Counting Crows
        
"A beautiful chronicle of what went wrong with rock and pop in recent decades. Flanagan hit me over the head with some profound truths about art and the people who sell it. But most important he enlightens us with a great sense of humor and a thoroughly entertaining read. The perfectly sad story of the folks who picked all the golden apples and never bothered to water the tree."
-- Tom Petty

"Laugh-out-loud funny -- a true hoot."
-- Lou Reed
Advertisement