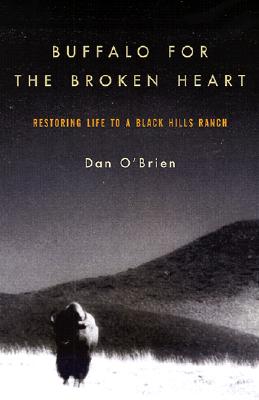 Buffalo for the Broken Heart
Restoring Life to a Black Hills Ranch
Hardcover

* Individual store prices may vary.
Other Editions of This Title:
Paperback (10/8/2002)
Description
For twenty years, Dan O'Brien battled drought, overgrazed pastures, and falling cattle prices as he struggled to maintain his cattle ranch, The Broken Heart, nestled at the foot of South Dakota's Black Hills. Having to take stints as an endangered species biologist, English teacher, and handyman to help pay off his accumulating debts, he questioned the logic of this losing enterprise, but never lost his fierce love of the Great Plains. So when a neighboring buffalo rancher invites him to lend a hand at the annual buffalo roundup, O'Brien comes face to face with these mammoth, impressive creatures, and the seeds are planted for converting his own ranch from cattle to buffalo. Starting with thirteen calves, "short-necked, golden balls of wool," O'Brien embarks on a journey that returns buffalo to his land for the first time in more than a century and a half.
In BUFFALO FOR THE BROKEN HEART, Dan O'Brien, a writer possessed of "a keen and poetic eye" ("The New York Times Book Review"), ranges freely under the big western sky, bringing the Great Plains to life in clear and vibrant prose. Whether he's describing the grazing pattern of the buffalo (moving quickly from one pasture to another, thereby maintaining the diversity of the grasses), the ancient thrill of watching a falcon hone in on its prey, or the comical spectacle of a buffalo bull wallowing in the mud, O'Brien brings together a novelist's eye for detail with an ecologist's understanding to create an entertaining and enriching narrative.
At once a heartfelt account of his struggles at the Broken Heart, a short history of the buffalo and its near extinction, and an engaging lesson in wildlife ecology, BUFFALO FOR THE BROKENHEART illustrates the power of a dream and how life becomes infinitely richer when we dare to follow one. This is Dan O'Brien's greatest achievement to date, placing him firmly in the canon of other great writers on nature such as Annie Dillard and Peter Matthiessen.

Random House, 9780375503252, 272pp.
Publication Date: August 1, 2001
or
Not Currently Available for Direct Purchase