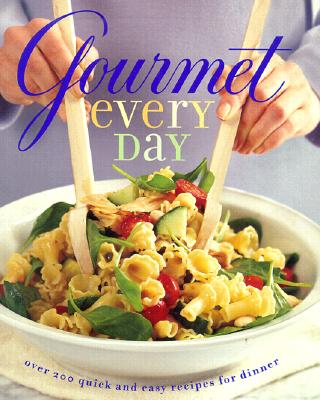 Gourmet Every Day (Hardcover)
Over 200 Quick and Easy Recipes for Dinner
Random House, 9780375504457, 208pp.
Publication Date: August 29, 2000
* Individual store prices may vary.
Description
Pasta with store-bought sauce, a frozen something-or-other, take-out Chinese . . . Does this sound like a typical weeknight dinner? More than likely, your everday life is hectic and you don't have time to cook, let alone cook something gourmet. But what if you could make one quick recipe at the end of a long day that was absolutely delicious and served as a complete meal? Gourmet Every Day offers what busy people like you need most--20 flavorful one-dish dinners that can be prepared in your own kitchen in minutes and more than 180 additional recipes to create your own speedy combinations.

Gourmet Every Day begins with a colorful collection of 20 one-dish dinners (a month's worth of weeknight meals) designed for cooking on the run. The format is simple: On every left-hand page is a full-color photograph of a meal-in-one; on the right is the corresponding recipe, in extra-large type. Simply peruse the section, choose dinner, and cook. No page-flipping, just concise instructions with a photo to guide you. An everyday wine se-lection from Gerald Asher, Gourmet's wine editor, complements each meal. As always, Gourmet's food editors keep seasonality in mind. On a chilly night, try saffron chicken and chickpea stew, or roasted mussels with almonds and garlic. When summer harvests are at their peak, there's shrimp and corn with basil, and smoked chicken and sugar snap pea salad with mint.

Ten chapters follow with hundreds of recipes to mix and match. Quick stove-top dishes, grills, soups, sandwiches and burgers, pastas and pizzas, vegetables, grains, green salads, even snacks and desserts--all can be made in 45 minutes or less and many can be made in 20 minutes! (Super-fast 20-minute recipes are marked with a icon. Many, like the Greek salad with tuna or the gazpacho with parsley pesto, require no cooking at all.) And if you are keeping an eye on your waistline, there are more than 50 leanerlighter dishes from which to choose (marked by the F icon). Who would guess that decadent-tasting white bean, tomato, and goat cheese pizza or orecchiette with sausage and marinara sauce might just fit into your diet after all? All this, plus more than 90 exquisite photographs and many behind-the-scenes tips from Gourmet's editors, make this a quick-and-easy cookbook unlike any other.

Why settle for less when you can prepare a fabulous homemade Gourmet meal in minutes? Gourmet Every Day, an everyday must for busy people, truly lives up to its name.
Praise For Gourmet Every Day: Over 200 Quick and Easy Recipes for Dinner…
"Creating quick and easy recipes without sacrificing flavor
is quite a challenge. You see, to qualify for  Gourmet Every Day,
a recipe must be more than fast. It must not rely on convenience foods.
It must occasionally be low calorie. But above all, it must be truly tasty."
--from the Introduction by Ruth Reichl
or
Not Currently Available for Direct Purchase