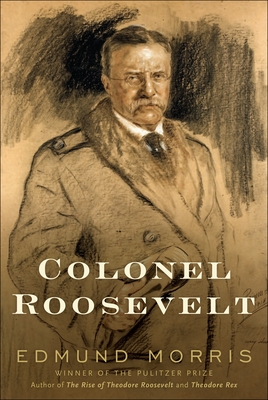 Colonel Roosevelt (Theodore Roosevelt #3)
Hardcover

* Individual store prices may vary.
Description
NEW YORK TIMES BESTSELLER • A NEW YORK TIMES NOTABLE BOOK •  "Colonel Roosevelt is compelling reading, and [Edmund] Morris is a brilliant biographer who practices his art at the highest level. . . . A moving, beautifully rendered account."—Fred Kaplan, The Washington Post

This biography by Edmund Morris, the Pulitzer Prize– and National Book Award–winning author of The Rise of Theodore Roosevelt and Theodore Rex, marks the completion of a trilogy sure to stand as definitive.

Of all our great presidents, Theodore Roosevelt is the only one whose greatness increased out of office. What other president has written forty books, hunted lions, founded a third political party, survived an assassin's bullet, and explored an unknown river longer than the Rhine?

Packed with more adventure, variety, drama, humor, and tragedy than a big novel, yet documented down to the smallest fact, this masterwork recounts the last decade of perhaps the most amazing life in American history.

"Hair-raising . . . awe-inspiring . . . a worthy close to a trilogy sure to be regarded as one of the best studies not just of any president, but of any American."—San Francisco Chronicle
Praise For Colonel Roosevelt (Theodore Roosevelt #3)…
"Now with Colonel Roosevelt, the magnum opus is complete. And it deserves to stand as the definitive study of its restless, mutable, ever-boyish, erudite and tirelessly energetic subject. Mr. Morris has addressed the toughest and most frustrating part of Roosevelt's life with the same care and precision that he brought to the two earlier installments. And if this story of a lifetime is his own life's work, he has reason to be immensely proud."—Janet Maslin, The New York Times

"Exemplary . . . Consistently rich and on point, with rapidly developing events providing a backdrop for the balanced examination [Morris] presents of his subject. . . . The [Theodore Roosevelt] trilogy is masterful, and can rightfully take its place among the truly outstanding biographies of the American presidency."—Los Angeles Times

"Reading Edmund Morris on Teddy Roosevelt is like listening to Yo-Yo Ma play Bach: You know from the first note you're in inspired hands. In Colonel Roosevelt—the final installment in a trilogy that began with The Rise of Theodore Roosevelt and Theodore Rex—Morris registers the Bull Moose's last decade in handsome, sweeping prose that avoids the valedictory chord struck by biographers who, nearing the end of their prodigious labors, resort to swooning across the chapters, unwilling to let go of their muse."—The Washingtonian

"Colonel Roosevelt, the third part of his three-volume biography of Roosevelt, is a worthy and extremely engaging culmination of Mr. Morris' work. It is popular history at its best."—Claude R. Marx, The Washington Times

Random House, 9780375504877, 784pp.
Publication Date: November 23, 2010
About the Author
Edmund Morris was born and educated in Kenya and attended college in South Africa. He worked as an advertising copywriter in London before immigrating to the United States in 1968. His first book, The Rise of Theodore Roosevelt, won the Pulitzer Prize and the National Book Award in 1980. Its sequel, Theodore Rex, won the Los Angeles Times Book Prize for Biography in 2001. In between these two books, Morris became President Reagan's authorized biographer and wrote the national bestseller Dutch: A Memoir of Ronald Reagan. He then completed his trilogy on the life of the twenty-sixth president with Colonel Roosevelt, also a bestseller, and has published Beethoven: The Universal Composer and This Living Hand and Other Essays. Edison is his final work of biography. He was married to fellow biographer Sylvia Jukes Morris for fifty-two years. Edmund Morris died in 2019.