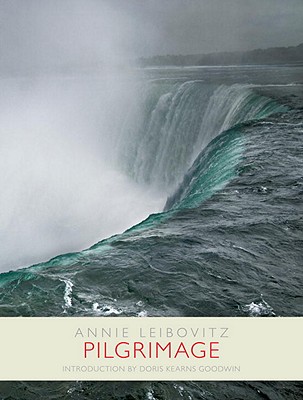 Pilgrimage
Hardcover

* Individual store prices may vary.
Description
Pilgrimage took Annie Leibovitz to places that she could explore with no agenda. She wasn't on assignment. She chose the subjects simply because they meant something to her. The first place was Emily Dickinson's house in Amherst, Massachusetts, which Leibovitz visited with a small digital camera. A few months later, she went with her three young children to Niagara Falls. "That's when I started making lists," she says. She added the houses of Virginia Woolf and Charles Darwin in the English countryside and Sigmund Freud's final home, in London, but most of the places on the lists were American. The work became more ambitious as Leibovitz discovered that she wanted to photograph objects as well as rooms and landscapes. She began to use more sophisticated cameras and a tripod and to travel with an assistant, but the project remained personal.

Leibovitz went to Concord to photograph the site of Thoreau's cabin at Walden Pond. Once she got there, she was drawn into the wider world of the Concord writers. Ralph Waldo Emerson's home and Orchard House, where Louisa May Alcott and her family lived and worked, became subjects. The Massachusetts studio of the Beaux Arts sculptor Daniel Chester French, who made the seated statue in the Lincoln Memorial, became the touchstone for trips to Gettysburg and to the archives where the glass negatives of Lincoln's portraits have been saved. Lincoln's portraitists—principally Alexander Gardner and the photographers in Mathew Brady's studio—were also the men whose work at the Gettysburg battlefield established the foundation for war photography. At almost exactly the same time, in a remote, primitive studio on the Isle of Wight, Julia Margaret Cameron was developing her own ultimately influential style of portraiture. Leibovitz made two trips to the Isle of Wight and, in an homage to the other photographer on her list, Ansel Adams, she explored the trails above the Yosemite Valley, where Adams worked for fifty years.

The final list of subjects is perhaps a bit eccentric. Georgia O'Keeffe and Eleanor Roosevelt but also Elvis Presley and Annie Oakley, among others. Figurative imagery gives way to the abstractions of Old Faithful and Robert Smithson's Spiral Jetty. Pilgrimage was a restorative project for Leibovitz, and the arc of the narrative is her own. "From the beginning, when I was watching my children stand mesmerized over Niagara Falls, it was an exercise in renewal," she says. "It taught me to see again."
Praise For Pilgrimage…
"Extraordinary images….When I leafed through Pilgrimage, I was astounded....I urge you to take a look at this remarkable and powerful book."
--Anna Wintour, Vogue
 
"The view from the window of the greenhouse where Virginia Woolf wrote her novels, Thomas Jefferson's vegetable garden at Monticello, an etching copied onto the walls of the Alcott family home in Massachusetts by May Alcott (the inspiration for Amy in Little Women) scale down our perception of these large personalities to intensely human dimensions and draw us into the intimate texture of their lives....Leibovitz has produced a book without people, and yet portraits are everywhere on its pages, and in them a profound sense of life's bold fragility and art's imperfect beauty.
--Eve MacSweeney, Vogue
 
"Gazing at the traces left behind by her favorite artists, traces of their lives, their creature habits, Ms. Leibovitz finds something to nurture all of us — something about integrity, staying true to a vision. She forges a connection to the past that informs the way she is moving forward."
--Dominique Browning, The New York Times
Random House, 9780375505089, 246pp.
Publication Date: November 8, 2011
About the Author
Annie Leibovitz was born on October 2, 1949, in Waterbury, Connecticut. She began her career as a photojournalist for Rolling Stone in 1970, while she was still a student at the San Francisco Art Institute.

Leibovitz became Rolling Stone's chief photographer in 1973. By the time she left the magazine, ten years later, she had shot 142 covers and published photo-essays on scores of stories, including her memorable accounts of the resignation of Richard Nixon and of the 1975 Rolling Stones tour. In 1983, when she joined the staff of the revived Vanity Fair, she was established as the foremost rock music photographer and an astute documentarian of the social landscape. At Vanity Fair, and later at Vogue, she developed a large body of work that expanded her collective portrait of contemporary life. In addition to her editorial work, she has created several influential advertising campaigns, including her award-winning portraits for American Express and the Gap. She has also collaborated with many arts organizations. Her large and distinguished body of work encompasses some of the most well-known portraits of our time.

Several collections of Leibovitz's work have been published. They include Annie Leibovitz: Photographs (1983); Annie Leibovitz: Photographs 1970–1990 (1991); Olympic Portraits (1996); Women (1999), in collaboration with Susan Sontag; American Music (2003); A Photographer's Life, 1990-2005 (2006); and Annie Leibovitz at Work (2008). Exhibitions of her photographs have appeared in museums and galleries all over the world, including the National Portrait Gallery and the Corcoran Gallery in Washington, D.C.; the International Center of Photography in New York; the Brooklyn Museum; the Stedelijk Museum in Amsterdam; the Maison Européenne de la Photographie in Paris; the National Portrait Gallery in London; the State Hermitage museum in St. Petersburg, Russia; and the Pushkin Museum of Fine Arts in Moscow.

Leibovitz is the recipient of many honors, including the International Center of Photography's Lifetime Achievement Award, the American Society of Magazine Editors' first Creative Excellence Award, and the Centenary Medal of the Royal Photographic Society in London. She was decorated a Commandeur in the Ordre des Arts et des Lettres by the French government and has been designated a Living Legend by the Library of Congress. She lives in New York with her three children, Sarah, Susan, and Samuelle.
Coverage from NPR
or
Not Currently Available for Direct Purchase