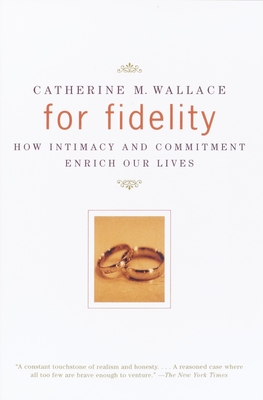 For Fidelity (Paperback)
How Intimacy and Commitment Enrich Our Lives
Vintage, 9780375700729, 192pp.
Publication Date: February 2, 1999
* Individual store prices may vary.
Description
Drawing inspiration from both contemporary psychology and ancient spiritual traditions, Catherine Wallace presents her vision of marriage as an art and a spiritual exercise. The rewards are limitless: properly nurtured, our sexual needs and vulnerabilities turn out not to be liabilities but powerful, generative gifts.

At a time when emotional commitments are increasingly fragile and short-lived, Wallace makes a direct and eloquent plea on behalf of sexual fidelity—its blessings, its demands, its moral and emotional necessity.
About the Author
Catherine M. Wallace was born in Chicago in 1950. She received her Ph.D. from the University of Michigan in 1977 and was Assistant Professor of English at Northwestern University from 1976 to 1982. She set aside her scholarly career in literary theory to stay home full-time with newborn twins and a two-year-old--all three of whom are now in high school. She has spent the last fifteen years reading eclectically, speaking and writing about literary approaches to spiritual issues, and working as a homemaker. Her writing has appeared in pamphlets published by Forward Movement Publications and in scholarly journals.


From the Hardcover edition.
Praise For For Fidelity: How Intimacy and Commitment Enrich Our Lives…
"A constant touchstone of realism and honesty.... A reasoned case where all too few are brave enough to venture. ?The New York Times

"[Wallace] makes an eloquent case for sexual fidelity." ?The New Yorker

"[Wallace] is a stylist and thinker of uncommon intellectual charm; she's that rare creature among writers, someone both witty and wise.... [For Fidelity is] rich and subtle." ?Hungry Mind Review

"An intriguing and convincing set of arguments for fidelity in marriage, in relationships, and in life in general." ?Houston Chronicle