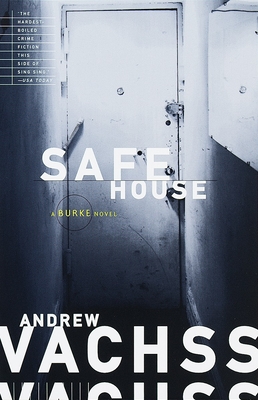 Safe House (Paperback)
Vintage Crime/Black Lizard, 9780375700743, 320pp.
Publication Date: March 30, 1999
Description
In Burke, Vachss gave readers of crime fiction a hero they could believe in, an avenger whose sense of justice was forged behind bars and tempered on New York's meanest streets. In this blistering new thriller, Burke is drawn into his ugliest case yet, one that involves an underground network of abused women and the sleekly ingenious stalkers who've marked them as their personal victims.
Burke's client is Crystal Beth, a beautiful outlaw with a tattoo on her face and a mission burned into her heart. She is trying to shield one of her charges from a vengeful ex with fetishes for Nazism and torture. But the stalker has a protector, someone so informed, so ruthless, and so connected that he need only make a few phone calls to shut down Crystal Beth's operation for good and Burke along with it. Sinuous in its complexities, brutal in its momentum, Safe House is Burke at the edge of his nerve and cunning. And it's Vachss at the peak of his form.
About the Author
Andrew Vachss, an attorney in private practice specializing in juvenile justice and child abuse, is the country s best recognized and most widely sought after spokesperson on crimes against children. He is also a bestselling novelist and short story writer, whose works include Flood (1985), the novel which first introduced Vachss series character Burke, Strega (1987), Choice of Evil (1999), and Dead and Gone (2000). His short stories have appeared in Esquire, Playboy, and The Observer, and he is a contributor to ABA Journal, Journal of Psychohistory, New England Law Review, The New York Times, and Parade. Vachss has worked as a federal investigator in sexually transmitted diseases, a caseworker in New York, and a professional organizer. He was the director of an urban migrants re-entry center in Chicago and another for ex-cons in Boston. After managing a maximum-security prison for violent juvenile offenders, he published his first book, a textbook, about the experience. He was also deeply involved in the relief effort in Biafra, now Nigeria. For ten years, Vachss law practice combined criminal defense with child protection, until, with the success of his novels, it segued exclusively into the latter, which is his passion. Vachss calls the child protective movement a war, and considers his writing as powerful a weapon as his litigation."
Praise For Safe House…
"The hardest-boiled crime fiction this side of Sing Sing"- USA Today

"Vachss makes other noir writers seem like William Saroyan."- Fort Worth Star-Telegram

"Scorching... the prose is accomplished, stylized, and flinty; the plot is direct and commanding."- Seattle Times

"Vachss's reverence for storytelling is evident in the blunt beauty of his language."-Chicago Sun-Times
Advertisement