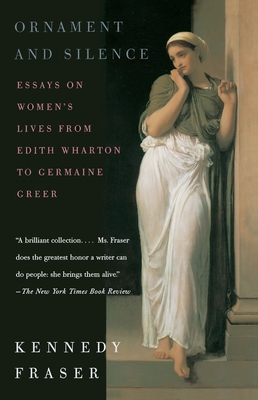 Ornament and Silence: Essays on Women's Lives from Edith Wharton to Germaine Greer (Paperback)
Essays on Women's Lives from Edith Wharton to Germaine Greer
Vintage Books USA, 9780375701122, 268pp.
Publication Date: May 1, 1998
Description
In these fourteen essays, Fraser focuses on women in love affairs, friendships, marriages, and families; in relation to one another and to the talented men who so often rendered them invisible. In Ornament and Silence we see Virginia Woolf, haunted and eventually destroyed by the sexual secrets of her childhood. We meet Flaubert's theatrically importunate mistress, Louise Colet, the one woman who could briefly slip past the master's misogyny. Fraser offers vibrant portraits of the Russian novelist Nina Berberova and the English naturalist Miriam Rothschild. And here is Fraser herself, learning her craft at The New Yorker, tending her English garden and--on every page--delighting us with the manifold felicities of her prose.
"A wonderfully idiosyncratic set of essays on women famous and unknown whose public and private lives Fraser examines with great feeling and exactitude...insight, intelligence, and grace."--Newsday
"Subtlety, fluency, candor, an agile sensate intellect--Kennedy Fraser brings all these gifts to bear on a subject that is not always contemplated so untendentiously, with such independence of mind, and from such a generous and worldly point of view."--Phillip Roth.
Advertisement