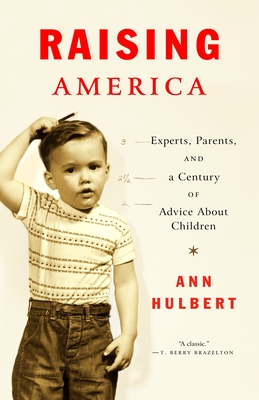 Raising America
Experts, Parents, and a Century of Advice About Children
Paperback

* Individual store prices may vary.
Description
Since the beginning of the twentieth century, millions of anxious parents have turned to child-rearing manuals for reassurance. Instead, however, they have often found yet more cause for worry. In this rich social history, Ann Hulbert analyzes one hundred years of shifting trends in advice and discovers an ongoing battle between two main approaches: a "child-centered" focus on warmly encouraging development versus a sterner "parent-centered" emphasis on instilling discipline. She examines how pediatrics, psychology, and neuroscience have fueled the debates but failed to offer definitive answers. And she delves into the highly relevant and often turbulent personal lives of the popular advice-givers, from L. Emmett Holt and Arnold Gesell to Bruno Bettelheim and Benjamin Spock to the prominent (and ever conflicting) experts of today.
Praise For Raising America: Experts, Parents, and a Century of Advice About Children…
"Thought-provoking. . . . Hulbert's achievement is to examine our hopes and fears as they are played out in the lives of our children." —Los Angeles Times Book Review

"Were I to recommend one book to a new parent, it wouldn't be a how-to manual, but rather Ann Hulbert's diverting and thoroughly illuminating study." –The New York Observer

"Raising America is a generation-by-generation history of advice, and the joy of this book is in how successfully Hulbert renders the taste and smell of the circus." —The Atlantic Monthly

"[Hulbert's] history is fascinating as it reflects the tensions and anxieties of a century."—New York Times Book Review

Vintage, 9780375701221, 464pp.
Publication Date: April 13, 2004
About the Author
Ann Hulbert is the author of The Interior Castle: The Art and Life of Jean Stafford. Her articles and reviews have appeared in many places, including the New York Times Book Review, the New York Review of Books, and The New Republic, where she worked for many years as a senior editor. She graduated from Harvard and spent a year at Cambridge University. She lives with her husband and two children in Washington, D.C.
or
Not Currently Available for Direct Purchase