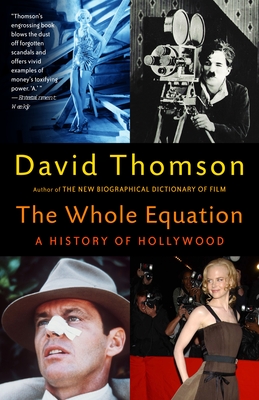 The Whole Equation: A History of Hollywood (Paperback)
A History of Hollywood
Vintage, 9780375701542, 402pp.
Publication Date: February 14, 2006
Description
With the same style and insight he brought to his previous studies of American cinema, acclaimed critic David Thomson masterfully evokes the history of America's love affair with the movies and the tangled history of Hollywood in The Whole Equation. Thomson takes us from D.W. Griffith, Charlie Chaplin, and the first movies of mass appeal to Louis B. Mayer, who understood what movies meant to America-and reaped the profits. From Capra to Kidman and Hitchcock to Nicholson, Thomson examines the passion, vanity, calculation and gossip of Hollywood and the films it has given us. This one-volume history is a brilliant and illuminating overview of "the wonder in the dark"-and the staggering impact Hollywood and its films has had on American culture.
About the Author
David Thomson taught film studies at Dartmouth College and served on the selection committee for the New York Film Festival. He is a regular contributor to The New York Times, Film Comment, Movieline, The New Republic, and Salon. He was the screenwriter on the award-winning documentary The Making of a Legend: Gone With the Wind. His other books include Showman: The Life of David O. Selznick, Beneath Mulholland: Thoughts on Hollywood and Its Ghosts, and three works of fiction. Born in London, he lives in San Francisco with his wife and their two sons.
Praise For The Whole Equation: A History of Hollywood…
"A must-read for anybody who loves film and is fascinated with the less-than-romantic machinery behind the glitter. . . . Engaging."–Liz Smith, The New York Post

"You are not likely to find a more affecting and intellectually absorbing book on film..."
—Louis Menand, The New Yorker

"I've always wanted to read a history of the movies that dealt with their whole ecology—what they were, why they were, who made them, who watched them, how they were paid for, and where the money went. This is it. It's engaged, passionate, tender, informative, critical, mournful, funny, and unsentimental."
—Richard Eyre

"Once again, with his intelligent eye and sharp wit, David Thomson has managed to bring the reader inside and underneath the world of cinema, this time creating a remarkable one-volume compendium of the history and the magic that we call Hollywood."
—Harvey Weinstein

"Thomson traces an arc as sure and elegant as the best of Tinseltown's movies in his totally absorbing book, hitting all the right bases along the way—risk, fantasy, ruthlessness, joy, horror and money, always money. A remarkable summing up from perhaps the only observer with the right balance of passion and perspective to pull it off."
—Kate Buford

"From the opening chapter on writer Robert Towne and his struggles with Chinatown to the cloudy denouement–the future of cinema–this is a must-read for anybody who loves film and is fascinated with the less-than romantic machinery behind the glitter...For its candid good taste alone, the book goes on my shelf."
–Liz Smith, New York Newsday

"The excitement of Mr. Thomson's wild ride is infectious. . . the author's penchant for outrageous bons mots never fails to hit the bull's eye…Thomson's "mathematics" of myth-building–both Hollywood's and his own–is so compulsively readable…you still can't turn the pages fast enough."
–David Fear, Time Out New York

"On one end the problematic creative folk like Charlie Chaplin, Erich von Stroheim, Marlon Brando, on the opposite end of the equation are the businessmen and studio heads whose interest was, and always will be, the bottom line. As Mr. Thomson unreels the history of film in a series of flashbacks forward and back, budgets are broken down, boardrooms are spied upon, scripts and personalities pass before us in fascinating and unprecedented review."
–Stefan Kanfer, The Wall Street Journal

" . . . With strong opinions and acerbic prose Thomson puts a contemporary spin on Hollywood's origins by crunching the numbers in Greta Garbo's contract, dissecting the budget of Gone with the Wind, and psychoanalyzing pioneering producers Thalberg and David O. Selznick… A meditation on [the American film industry's] significance, Thomson's engrossing book blows the dust off forgotten scandals and offers vivid examples of money's toxifying power."
–Andrew Johnston, Entertainment Weekly

" A deliciously opinionated, wise and witty work…A profound and often humorous and poignant [book] that examines Hollywood movies with a wide lens."

"Compelling are [his] musings on stars and directors, from Charlie Chaplin to Steven Spielberg… He offers arguments powerful enough to make the reader view the movies in a new light…Most important is the intersection of art and business, the center of The Whole Equation."
–John McMurtrie, San Francisco Chronicle


Advertisement