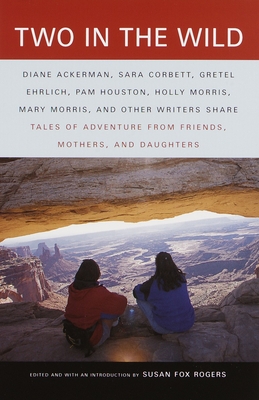 Two in the Wild
Tales of Adventure from Friends, Mothers, and Daughters (Vintage Departures)
Paperback

* Individual store prices may vary.
Description
Thelma and Louise get sporty (and survive) in this anthology of true stories about women whose idea of fun involves sharing adventures--big and small--in the great outdoors. In essays that not only take you to mountains, forests, lakes, and rivers but also explore the powerful and intimate bond of female companionship, the editor of Solo: On Her Own Adventure introduces sixteen daring women and their travel mates as they ski, climb, hike, bike, and drive all over the world.

Trudge through the muddied roads of Australia's outback with thirty-something Sara Corbett and her childhood chum to find the legendary 80-year-old woman rumored to split wood faster than any man who challenges her. Go fishing with Holly Morris, kick back with Pam Houston and a good friend at a Denver ranch, or bike with Diane Ackerman and her friend through the "aubergine drapery of the forest" as they circumnavigate Otsego Lake. Hop in the car with Mary Morris and her baby daughter to meet the eccentrics living in the California desert, and climb the Himalayas with 54-year-old Jean Gould and her 70-year-old travel partner.

Whether you are an armchair adventurer or a thrill seeker in your own right, these exhilarating essays will inspire you to dust off your bicycle, lace up your hiking boots, fill your gas tank, and take your dearest friend along for the time of your lives.
Vintage, 9780375702013, 240pp.
Publication Date: August 31, 1999
About the Author
A rock climber for over twenty years, Susan Fox Rogers has edited a number of anthologies including  Solo: On Her Own Adventures, Alaska Passages: 20 Voices from Above the 54th Parallel, and Another Wilderness: Notes from the New Outdoorswoman. She lives in Tuscon, Arizona.