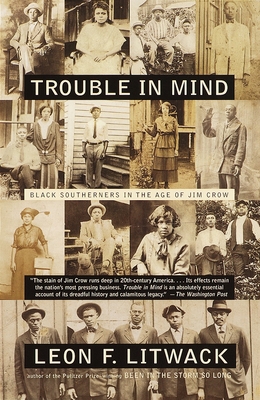 Trouble in Mind (Paperback)
Black Southerners in the Age of Jim Crow
Vintage, 9780375702631, 640pp.
Publication Date: July 27, 1999
* Individual store prices may vary.
Description
"The stain of Jim Crow runs deep in 20th-century America. . . . Its effects remain the nation's most pressing business. Trouble in Mind is an absolutely essential account of its dreadful history and calamitous legacy."  --The Washington Post

"The most complete and moving account we have had of what the victims of the Jim Crow South suffered and somehow endured."
--C. Vann Woodward

In April 1899, black laborer Sam Hose killed his white boss in self-defense. Wrongly accused of raping the man's wife, Hose was mutilated, stabbed, and burned alive in front of 2,000 cheering whites. His body was sold piecemeal to souvenir seekers; an Atlanta grocery displayed his knuckles in its front window for a week.

With the same narrative skill he brought to the Pulitzer Prize-winning Been in the Storm So Long, Leon Litwack constructs a searing history of life under Jim Crow. Drawing on new documentation and first-person accounts by blacks and whites, he describes the injustices--both institutional and personal--inflicted against a people. Here, too, are the black men and women whose activism, literature, and music preserved the genius of their human spirit. Painstakingly researched, important, and timely, Trouble in Mind recalls the bloodiest and most repressive period in the history of race relations in the United States--and the painful record of discrimination that haunts us to this day.

"Moving, elegant, earthy and pointed. . . . It forces us to reckon with the tragic legacies of freedom as well as of slavery. And it reminds us of the resilience and creativity of the human spirit."
--Steven Hahn, The San Diego Union-Tribune

"A chilling reminder of how simple it has been for Americans to delude themselves about the power of race."         --The Raleigh News & Observer
About the Author
Leon F. Litwack is the author of Been in the Storm So Long, which won the Pulitzer Prize in History and the Parkman Prize. He is the recipient of a Guggenheim Fellowship, two Distinguished Teaching Awards, and a National Endowment for the Humanities Film Grant, and is the Alexander F. and May T. Morrison Professor of American History at the University of California, Berkeley.