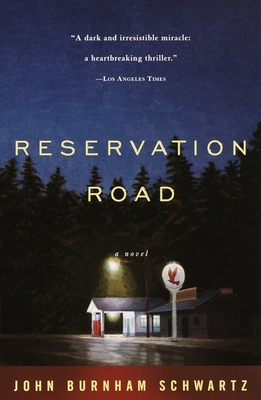 Reservation Road (Vintage Contemporaries) (Paperback)
Vintage, 9780375702730, 304pp.
Publication Date: October 5, 1999
Other Editions of This Title:
Digital Audiobook (3/26/2007)
Digital Audiobook (10/2/2006)
Paperback (9/18/2007)
Mass Market Paperback (9/25/2007)
Paperback (5/1/2012)
Paperback (7/1/2008)
* Individual store prices may vary.
Description
A New York Times Notable Book of the Year

"A dark and irresistible miracle: a heartbreaking thriller."--Los Angeles Times

"Haunting. . . . A powerful and affecting novel."--The New York Times

A tragic accident sets in motion a cycle of violence and retribution in John Burnham Schwartz's riveting novel Reservation Road. Two haunted men and their families are engulfed by the emotions surrounding an unexpected and horrendous death. Ethan, a respected professor of literature at a small New England college, is wracked by an obsession with revenge that threatens to tear his family apart. Dwight, a man at once fleeing his crime and hoping to get caught, wrestles with overwhelming guilt and his sense of obligation to his son. As these two men's lives unravel, Reservation Road moves to its startling conclusion. This is an astonishing tale of love and loss, rage and redemption, that is as suspenseful as it is emotionally compelling.

"Thrums with suspense and moral ambiguity. . . . This is one of those rare--very rare--novels that you don't so much read as inhabit and that makes everyday life seem altogether mysterious." --Entertainment Weekly

"A triumph . . . character-driven as it is, it reads like a thriller, swift and complete."--The New York Times Book Review
About the Author
John Burnham Schwartz lives in New York City.
Praise For Reservation Road (Vintage Contemporaries)…
"This is a shattering book, imagined with startling emotional precision and generosity. And though it begins in catastrophe, Reservation Road turns out to be a kind of map of connectedness: Touch a child here and the whole world trembles out of orbit; everyone bleeds; finally, perhaps, after great pain, everyone heals. John Burnham Schwartz is awfully young to own this much wisdom, but there it is, on every page."
--Rosellen Brown

"A powerful and affecting novel...haunting...highly suspenseful...compelling to read."
--Michiko Kakutani, New York Times

"Spellbinding...a haunting tale"
--Booklist

"A poignant thriller...quietly breathtaking...a suspenseful literary novel"
--Betsey Osborne, Vanity Fair

"A pleasure to read. Suspense is redefined here..."
--Sandra Scofield, Newsday

"A lovely book, full of life and feeling"
--Peter Matthiessen

"One of those rare--very rare--novels that you don't so much read as inhabit...But it's the novel's conclusion, as perfect as it is sudden, shocking and completely unexpected, that will stick in your memory."        
--Tom Dehaven, Entertainment Weekly

"A beautiful novel. An important novel"
--David Bowman, New York Observer

"Both a beautiful, wrenching story of redemption, and a novel of exquisite suspense"
--Anne Lamott

"A first-rate work of fiction disguised as a page-turning thriller"
--David Halberstam

"An unexpected pleasure...It will leave the reader entranced as well as moved."
--Erica Noonan, Boston Herald

"A non-stop read...a wonderful writer"
--Ward Just

"A triumph of form, pacing and power...character-driven as it is, it reads like a thrille, swift and complete."
--Kit Reed, New York Times Book Review

"It possesses a conclusion of such power that it would be a literary crime to reveal it."
--Deirdre Donahue, USA Today
or
Not Currently Available for Direct Purchase