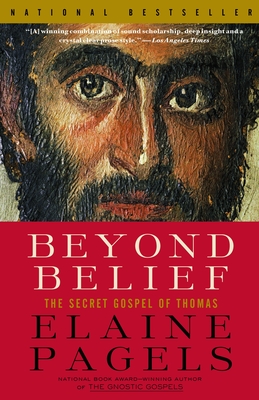 Beyond Belief (Paperback)
The Secret Gospel of Thomas
Vintage, 9780375703164, 272pp.
Publication Date: May 4, 2004
Other Editions of This Title:
Digital Audiobook (2/8/2004)
Digital Audiobook (5/3/2004)
Hardcover (5/6/2003)
Hardcover, Large Print, Large Print (5/4/2004)
* Individual store prices may vary.
Description
In Beyond Belief, renowned religion scholar Elaine Pagels continues her groundbreaking examination of the earliest Christian texts, arguing for an ongoing assessment of faith and a questioning of religious orthodoxy.

Spurred on by personal tragedy and new scholarship from an international group of researchers, Pagels returns to her investigation of the "secret" Gospel of Thomas, and breathes new life into writings once thought heretical. As she arrives at an ever-deeper conviction in her own faith, Pagels reveals how faith allows for a diversity of interpretations, and that the "rogue" voices of Christianity encourage and sustain "the recognition of the light within us all."
About the Author
Elaine Pagels is the Harrington Spear Paine Professor of Religion at Princeton University and the author of Reading Judas, The Gnostic Gospels—winner of the National Book Critics Circle Award and the National Book Award—and the New York Times bestseller Beyond Belief. She lives in Princeton, New Jersey.
Praise For Beyond Belief: The Secret Gospel of Thomas…
"Pagels has accomplished a very rare thing, an examination of early religious writings that is a good read, accessible, and at times even dramatic and poignant." —The Columbus Dispatch

"This remarkable book will stir and provoke thought. It offers rewards to any reader concerned with the promise and power of faith, and the hunger for spiritual discovery." —The Christian Science Monitor

"Lucid . . . a spiritual as well as an intellectual exercise. . . . [Pagels] seems to rejoice that in the earliest years of Christianity there existed these strange, dissident doctrines." —Frank Kermode, The New York Times Book Review

"With the winning combination of sound scholarship, deep insight and a crystal clear prose style . . . [Beyond Belief] portrays the rich and beautiful heritage that was lost when champions of religious orthodoxy turned on many of their fellow Christians and declared them 'heretics'." —Los Angeles Times

"Brilliantly lucid, elegantly written . . . [Pagels'] book is so readable you can't put it down." — Providence Journal-Bulletin

"Just as topical today as it was nearly two thousand years ago. . . . Pagels is great at pulling together the details that allow us to understand not only what people were arguing about but why." –San Jose Mercury News

"Majestic. . . . Exhilarating reading, Pagel's book offers a model of careful and thoughtful scholarship in the lively and exciting prose of a mystery writer." –Publishers Weekly

"This luminous and accessible history of early Christian thought offers profound and crucial insights on the nature of God, revelation, and what we mean by religious truth." –Karen Armstong

"As relevant as today's front page." –The Washington Post Book World