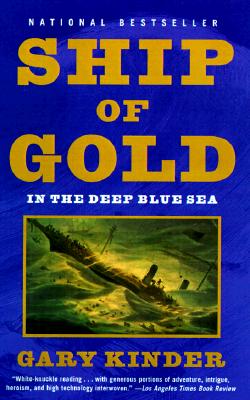 Ship of Gold in the Deep Blue Sea
Paperback

* Individual store prices may vary.
Description
"White knuckle reading...with generous portions of adventure, intrigue, heroism, and high technology interwoven."
--Los Angeles Times Book Review

This enthralling true story of maritime tragedy and visionary science begins with a disaster to rival the sinking of the Titanic.

In September 1857, the S.S. Central America, a side-wheel steamer carrying passengers returning from the gold fields of California, went down during a hurricane off the Carolina coast. More than 400 men--and 21 tons of gold--were lost. In the 1980s, a maverick engineer named Tommy Thompson set out to find the wreck and salvage its treasure from the ocean floor.

With knuckle-biting suspense, Gary Kinder reconstructs the terror of the Central America's last days, when passengers bailed freezing water from the hold, then chopped the ship's timbers to use as impromptu liferafts. He goes on to chronicle Thompson's epic quest for the lost vessel, an endeavor that drew on the latest strides in oceanography, information theory, and underwater robotics, and that pitted Thompson against hair-raising weather, bloodthirsty sharks, and unscrupulous rivals.

Ship of Gold is a magnificent adventure, filled with heroism, ingenuity, and perseverance.
Praise For Ship of Gold in the Deep Blue Sea…
"What a yarn!-- Kinder includes enough on the ship wreck to satisfy disaster fans looking for this summer's Into Thin Air and A Perfect Storm."
--Newsweek

"A truly great tale, cleverly organized and expertly written."
--Atlantic Monthly

"An old fashioned sea faring adventure, awash in time and vigor.... A ripping true tale of danger and discovery at sea."
--The Washington Post    

"Titanic tragedy meets Tom Clancy technology.... Kinder has lashed together a thumping good narrative."
--People

"White-knuckle reading, as exciting as anything...in The Perfect Storm."
--Los Angeles Times Book Review
  
"Engaging, magnificently researched--. A complex, bittersweet history of two centuries of American entrepreneurship, linked by the mad quest for gold."
--Entertainment Weekly

"Extraordinarily gripping--. Excruciatingly suspenseful--. An astounding and marvelous book."
--The Cleveland Plain Dealer

"Historical and technological reporting of a high order--suspenseful and deft--. A 24-carat sea classic."
--The New York Times Book Review
Vintage, 9780375703379, 560pp.
Publication Date: May 11, 1999
or
Not Currently Available for Direct Purchase