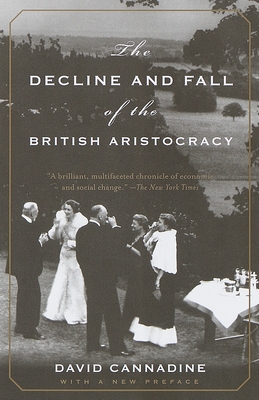 The Decline and Fall of the British Aristocracy (Paperback)
Vintage, 9780375703683, 848pp.
Publication Date: September 7, 1999
Description
"A brilliant, multifaceted chronicle of economic and social change." --The New York Times At the outset of the 1870s, the British aristocracy could rightly consider themselves the most fortunate people on earth: they held the lion's share of land, wealth, and power in the world's greatest empire. By the end of the 1930s they had lost not only a generation of sons in the First World War, but also much of their prosperity, prestige, and political significance. Deftly orchestrating an enormous array of documents and letters, facts, and statistics, David Cannadine shows how this shift came about--and how it was reinforced in the aftermath of the Second World War. Astonishingly learned, lucidly written, and sparkling with wit, The Decline and Fall of the British Aristocracy is a landmark study that dramatically changes our understanding of British social history.
About the Author
Sir David Cannadine was born in Birmingham, England, in 1950 and educated at Cambridge, Oxford, and Princeton. He is the author of many acclaimed books, including The Decline and Fall of the British Aristocracy, G. M. Trevelyan, History in Our Time, Class in Britain, Ornamentalism, and Mellon. He has taught at Cambridge and Columbia Universities and has also served as director of the Institute of Historical Research, University of London. He is currently Dodge Professor of History at Princeton University.
Advertisement