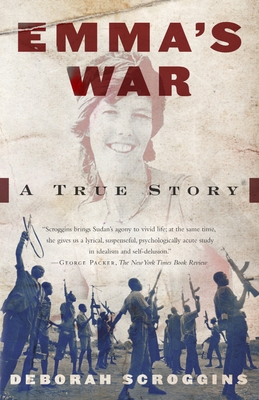 Emma's War: A True Story (Paperback)
A True Story
Vintage, 9780375703775, 416pp.
Publication Date: February 10, 2004
Description
Tall, striking, and adventurous to a fault, young British relief worker Emma McCune came to Sudan determined to make a difference in a country decimated by the longest-running civil war in Africa. She became a near legend in the bullet-scarred, famine-ridden country, but her eventual marriage to a rebel warlord made international headlines and spelled disastrous consequences for her ideals.
Enriched by Deborah Scroggins's firsthand experience as an award-winning journalist in Sudan, this unforgettable account of Emma McCune's tragically short life also provides an up-close look at the volatile politics in the region. It's a world where international aid fuels armies as well as the starving population, and where the northern-based Islamic government with ties to Osama bin Laden is locked in a war with the Christian and pagan south over religion, oil and slaves. Tying together these vastly disparate forces as well as Emma's own role in the problems of the region, Emma's War is at once a disturbing love story and a fascinating exploration of the moral quandaries behind humanitarian aid.
About the Author
Deborah Scroggins has won six national journalism awards for her reporting from Sudan and the Middle East. For Emma s War she was awarded the Georgia Author of the Year Award. A former correspondent for the Atlanta Journal-Constitution, she has published articles in Granta, The Independent, Vogue, and Glamour. She lives in Atlanta."
Praise For Emma's War: A True Story…
"Scroggins brings Sudan's agony to vivid life; at the same time, she gives us a lyrical, suspenseful, psychologically acute study in idealism and self-delusion." —George Packer, The New York Times Book Review

"Breathtaking and beautifully written. . . . Deborah Scroggins weaves the greater issues of Sudan around [Emma] McCune's idealism." –USA Today

"Brilliantly penetrating. . . . In [Emma McCune] Scroggins has found a feckless, captivating subject, as insufferable as the white man's insatiable need for redemption in Africa…. Scroggins undoes every illusion about aid, hunger and rebellion." –Washington Post

"A wonderful, challenging book. . . . One of the best that I have ever read on the difficult relationship between the developed world and the Third World." —William Shawcross, Sunday Times (London)
Advertisement