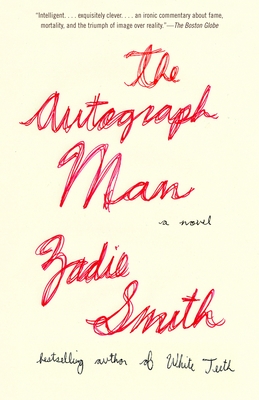 The Autograph Man (Vintage International) (Paperback)
Vintage, 9780375703874, 368pp.
Publication Date: June 17, 2003
Other Editions of This Title:
Audio Cassette (8/1/2002)
* Individual store prices may vary.
Description
Alex-Li Tandem sells autographs. His business is to hunt for names on paper, collect them, sell them, and occasionally fake them—all to give the people what they want: a little piece of Fame. But what does Alex want? Only the return of his father, the end of religion, something for his headache, three different girls, infinite grace, and the rare autograph of forties movie actress Kitty Alexander. With fries.

The Autograph Man is a deeply funny existential tour around the hollow trappings of modernity: celebrity, cinema, and the ugly triumph of symbol over experience. It offers further proof that Zadie Smith is one of the most staggeringly talented writers of her generation. Look for her new book Swing Time, coming November 2016.

About the Author
Zadie Smith was born in Northwest London in 1975 and still lives in the area. She is the author of White Teeth, The Autograph Man, On Beauty, Changing My Mind, NW, and most recently Swing Time.


Praise For The Autograph Man (Vintage International)…
"Intelligent. . . . exquisitely clever. . . . an ironic commentary about fame, mortality, and the triumph of image over reality." —The Boston Globe

"The same bracing intelligence and salty humor that distinguished her debut. . . . Smith scatters marvelous sentences and sharp insights on nearly every page." —LA Times

"A lovely surprise. Zadie Smith . . . has come out with a second book that is actually better than its predecessor: its dialog funnier, its language even more plugged in, more wired." —Esquire

"A preternaturally gifted . . . writer [with] a voice that's street-smart and learned, sassy and philosophical all at the same time." –The New York Times

"Savvy, witty and exuberant." –New York Daily News

"Smith is young and smart, and . . . she proves to be an amazingly gifted writer." –Washington Post Book World

"Smith writes sharp dialogue for every age and race–and she's funny as hell." –Newsweek

"[Zadie Smith] possesses a more than ordinary share of talent." –USA Today

"Absolutely delightful." –Alan Cheuse, Chicago Tribune

"Smith's clever, aphoristic observations and snappy dialogue are so delightful they tend to become addictive. . . . [The Autograph Man is] always entertaining." –Elle