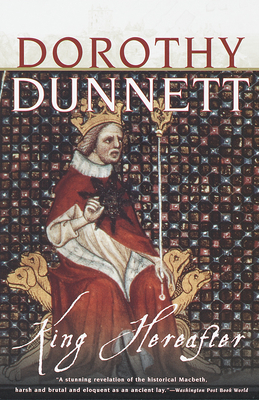 King Hereafter (Paperback)
Vintage Books USA, 9780375704031, 736pp.
Publication Date: September 29, 1998
Description
Back in print by popular demand--"A stunning revelation of the historical Macbeth, harsh and brutal and eloquent." --Washington Post Book World. With the same meticulous scholarship and narrative legerdemain she brought to her hugely popular Lymond Chronicles, our foremost historical novelist travels further into the past. In King Hereafter, Dorothy Dunnett's stage is the wild, half-pagan country of eleventh-century Scotland. Her hero is an ungainly young earl with a lowering brow and a taste for intrigue. He calls himself Thorfinn but his Christian name is Macbeth. Dunnett depicts Macbeth's transformation from an angry boy who refuses to accept his meager share of the Orkney Islands to a suavely accomplished warrior who seizes an empire with the help of a wife as shrewd and valiant as himself. She creates characters who are at once wholly creatures of another time yet always recognizable--and she does so with such realism and immediacy that she once more elevates historical fiction into high art.
About the Author
Dorothy Dunnett was born in 1923 in Dunfermline, Fife, Scotland. Her time at Gillespie's High School for Girls overlapped with that of the novelist Muriel Spark. From 1940-1955, she worked for the Civil Service as a press officer. In 1946, she married Alastair Dunnett, later editor of The Scotsman. Dunnett started writing in the late 1950s. Her first novel, The Game of Kings, was published in the United States in 1961, and in the United Kingdom the year after. She published 22 books in total, including the six-part Lymond Chronicles and the eight-part Niccolo Series, and co-authored another volume with her husband. Also an accomplished professional portrait painter, Dunnett exhibited at the Royal Scottish Academy on many occasions and had portraits commissioned by a number of prominent public figures in Scotland. She also led a busy life in public service, as a member of the Board of Trustees of the National Library of Scotland, a Trustee of the Scottish National War Memorial, and Director of the Edinburgh Book Festival. She served on numerous cultural committees, and was a Fellow of the Royal Society of Arts. In 1992 she was awarded the Office of the British Empire for services to literature. She died on November 9, 2001, at the age of 78.
Praise For King Hereafter…
"A storyteller who could teach Scheherazade a thing or two." --The New York Times

"One of the greatest tale-spinners since Dumas." --Cleveland Plain Dealer
Advertisement