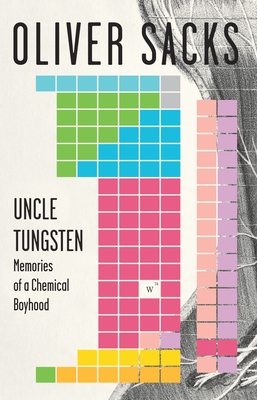 Uncle Tungsten
Memories of a Chemical Boyhood
Paperback

* Individual store prices may vary.
Description
Long before Oliver Sacks became a distinguished neurologist and bestselling writer, he was a small English boy fascinated by metals–also by chemical reactions (the louder and smellier the better), photography, squids and cuttlefish, H.G. Wells, and the periodic table. In this endlessly charming and eloquent memoir, the author of The Man Who Mistook His Wife for a Hat and Awakenings chronicles his love affair with science and the magnificently odd and sometimes harrowing childhood in which that love affair unfolded.

In Uncle Tungsten we meet Sacks' extraordinary family, from his surgeon mother (who introduces the fourteen-year-old Oliver to the art of human dissection) and his father, a family doctor who imbues in his son an early enthusiasm for housecalls, to his "Uncle Tungsten," whose factory produces tungsten-filament lightbulbs. We follow the young Oliver as he is exiled at the age of six to a grim, sadistic boarding school to escape the London Blitz, and later watch as he sets about passionately reliving the exploits of his chemical heroes–in his own home laboratory. Uncle Tungsten is a crystalline view of a brilliant young mind springing to life, a story of growing up which is by turns elegiac, comic, and wistful, full of the electrifying joy of discovery.
Praise For Uncle Tungsten: Memories of a Chemical Boyhood…
"A rare gem…. Fresh, joyous, wistful, generous, and tough-minded."–The New York Times Book Review

"This book underlies everything else Dr. Sacks has written, and is worthy to stand with the great scientific memoirs, for it's passion, its insight, its sense of history and its felicity." –Paul Theroux

"Fired by Sacks's enthusiasm–obviously genuine, impossible to feign–bursting forth in all directions. . . .The book recounts the growth of a formidable young mind opening up to the order and beauty of the material world." –Newsday

"Sack's study of a mind [is] as tough as tungsten, as fluid as mercury . . . as precious as gold." –The Seattle Times

Vintage, 9780375704048, 352pp.
Publication Date: September 17, 2002
About the Author
Oliver Sacks was a neurologist, writer, and professor of medicine. Born in London in 1933, he moved to New York City in 1965, where he launched his medical career and began writing case studies of his patients. Called the "poet laureate of medicine" by The New York Times, Sacks is the author of thirteen books, including The Man Who Mistook His Wife for a Hat, Musicophilia, and Awakenings, which inspired an Oscar-nominated film and a play by Harold Pinter. He was the recipient of many awards and honorary degrees, and was made a Commander of the British Empire in 2008 for services to medicine. He died in 2015.